'Abject failure,' 'shameful afront': Christian leaders react to Taliban takeover in Afghanistan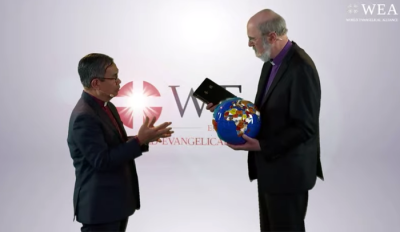 World Evangelical Alliance
The leader of the World Evangelical Alliance, a network of evangelical churches in more than 100 countries representing over 600 million Christians, believes that the resurgence of the Taliban in Afghanistan should not come as a surprise. 
"We are very concerned about the recent developments in Afghanistan and the dire prospects for all those who do not fit within the Taliban's view of a society," WEA Secretary General Bishop Dr. Thomas Schirrmacher said in a statement.
"Women, who will be among those who have most to lose, will likely again be prevented from enjoying basic rights, including tertiary education, professional careers, and even freedom to move around on their own."
Schirrmacher, the founder of the Martin Bucer European Theological Seminary and Research Institutes in Europe, predicted that "the plight of religious minorities," specifically Christians, would worsen as the Taliban continues to take control of Afghanistan.
He emphasized that despite installing a nominally democratic government, religious minorities still faced difficulties in Afghanistan over the past two decades.
"We should not pretend as if everything was well in Afghanistan prior to the Taliban taking control of the country," he stressed. 
Schirrmacher, who was inaugurated as WEA secretary general earlier this year, explained that "Converts from Islam have been killed in areas under the former official government, and war lords who controlled part of the country, and are now losing their power, were not much better."
Because "the Constitution of 2004 stated that Afghanistan is an Islamic Republic with Islam as its state religion," he said that religious minorities have suffered in Afghanistan. He said minorities "will suffer even more now," including "Muslim minorities like the Shiites and those Muslims who have become followers of Jesus Christ."
"Our hearts cannot help but ache for the many Afghans who are longing for freedom but once again have to live in fear within their own nation, as well as the many who have fled to other countries as refugees leaving behind everything," he added. "Join us in prayer for our brothers and sisters in Christ that they would be protected and comforted."