Drones Target Unborn Babies in Poland Dropping Off Abortion Pills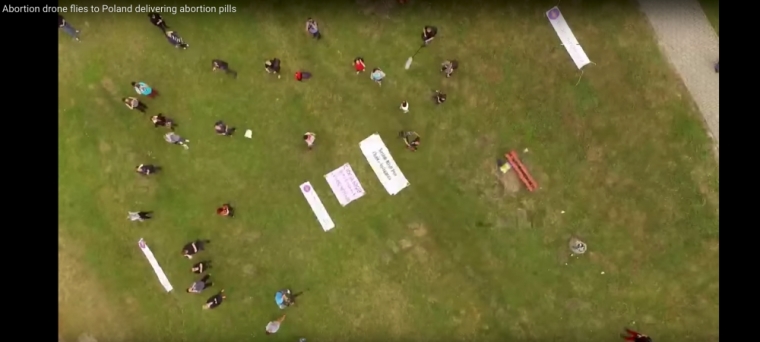 A Dutch group promoting women doing a medical abortion themselves sent on Saturday its first "abortion drone," carrying pills to kill unborn babies, from Germany to the strictly Roman Catholic country of Poland, and called it a "success," as "two Polish women swallowed the abortion pills."
The drone departed from Frankfurt an der Oder in Germany and landed at the opposite side of the river in Slubice, Poland, says the Amsterdam-based Women on Waves group on its website, which also boasts that German police tried to intervene "but the drone pilots were able to safely land the drones at the Polish side."
The police, who say the group violated "Arzneimittelgesetz," or the country's medicine laws, later confiscated the drone controllers and personal iPads.
Rebecca Gomperts, a doctor and founder of the group, earlier told The Guardian that her organization wants to create awareness about "women's right to a safe abortion."
"The drone is another way to use the different laws in different countries in order to draw attention to the social injustice that women who are living in places where abortion is illegal are subject to," she asserted. "In Poland, even women who could have an abortion under Polish law are often denied it because Catholic hospitals don't help them, even if their life is in danger. Rich people can go to Germany or the UK to have abortions, but it's the women who don't have the means or access to information who are suffering."
Gomperts claimed the "abortion drone" did not require authorization from the Polish or German government as it was flown through controlled airspace, was not for commercial purposes and weighed less than 11 pounds.
Poland, which is 87 percent Roman Catholic, bans abortion except in the cases of a woman's life being endangered, a pregnancy being a result of a criminal act, or when the fetus is seriously malformed. It is one of the few countries in the world that outlaws abortion.
"The official number of abortions in Poland, a country with 38 million inhabitants, is only 744," the group says. "If the abortion rate in Poland is as low as in Germany, in reality at least 48000 underground abortions take place in Poland every year!! Probably this number is much higher, as there is a lack of appropriate sexual education and accessible contraceptive services. Estimates are that at in reality least 5 times more, or 240000 abortions are done in Poland (44 per 1000 women in child bearing age have an abortion every year in Poland compared to 7 in Germany)."
The medicines used for a medical abortion, mifepristone and misoprostol, have been on the list of essential medicines of the WHO since 2005 and are available in Germany and almost all other European countries, the group says. "However this medicine is still not registered in Poland."
It was the first "abortion drone" flight, but not the last, the group says. Other countries on the group's target list include Ireland and Malta. "We would definitely be able to extend this programme," Gompert said.