American Idol Panel to Boot Randy Jackson for Diva Mariah Carey?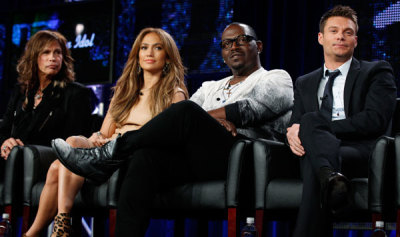 In order to make room for Mariah Carey on the "American Idol" judge panel, show producers may have her replace Randy Jackson.
It has already been revealed that Steven Tyler and Jennifer Lopez will no longer be judges on "American Idol" in the coming season due to lowering ratings and contract disputes. Now, however, the latest rumor has suggested that even Randy Jackson will be taking a step down, although not leaving the show entirely. Taking Jackson's place will allegedly be Mariah Carey.
"They are in serious talks with Mariah and it's very close to being a done deal," a source told Us Weekly. "And they will move Randy into a more mentoring role."
SEE RANDY JACKSON PUNCH CONTESTANT IN FACE ON AMERICAN IDOL
If Jackson no longer serves as a judge, then the entire "American Idol" panel will have been swept clean. Tyler announced his step down last Thursday.
READ MORE: ARETHA FRANKLIN 'INTERESTED' IN BEING IDOL JUDGE
"After some long ... hard ... thoughts … I've decided it's time for me to let go of my mistress 'American Idol' before she boils my rabbit," the Aerosmith singer said in a statement. "I strayed from my first love, Aerosmith, and I'm back -- but instead of begging on my hands and knees, I've got two fists in the air and I'm kicking the door open with my band."
Lopez also suggested that she might be stepping down, although she did not offer a definitive answer right away.
"I've enjoyed it so much, but I am thinking it's maybe time for me to go and do other things I really love to do like films ... and performing," Lopez said on "Today."
A day later, when she confirmed her decision to step down, some speculated that she was forced to over money issues, but the star had denied any such claims.
"It wasn't about playing games or wanting more money or any of that. It was a business decision," Lopez said on Ryan Seacrest's radio show.
The reality show lost 23 percent of viewers over the last season, according to USA Today.
SEE RANDY JACKSON'S FUNNIEST MOMENTS, INCLUDING PUNCHING CONTESTANT IN FACE
LIST OF POTENTIAL REPLACEMENTS FOR AMERICAN IDOL JUDGES
How Many Times Will Randy Jackson Say 'Dawg?'