Americans Unite With 'One Voice' on 'Day of Prayer' While Secularists and Atheists Continue Push for 'Reason'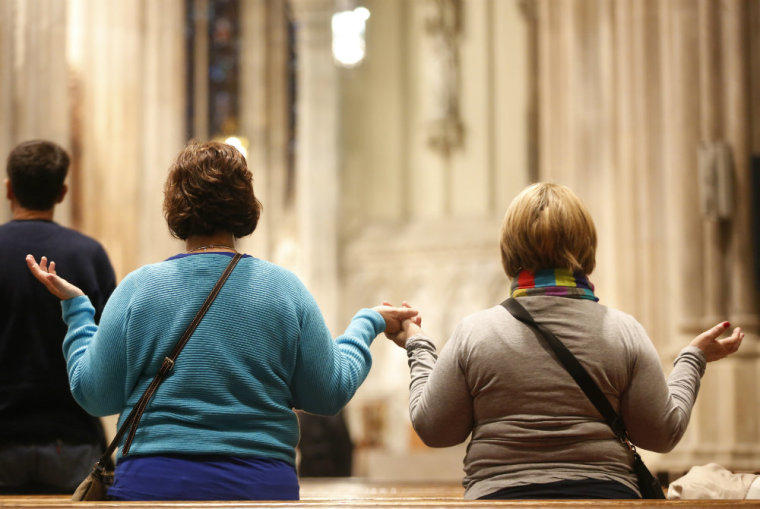 The National Day of Prayer, when people of faith across America, and in a handful of other countries unite to appeal to God's mercy, was organized this year on the theme of "One Voice, United in Prayer," but, as expected, secularists and atheists want no part of the campaign and continue to push for states to recognize a "National Day of Reason."
"So that with one mind and one voice you may glorify the God and Father of our Lord Jesus Christ," reads Romans 15:6, the Scriptural inspiration for the theme of this year's National Day of Prayer, organized every year since 1952 to "mobilize prayer in America and to encourage personal repentance and righteousness in the culture."
"When we come to the one to whom we pray and we glorify with one mind and voice the God and Father of our Lord Jesus Christ, we're coming to someone that is not a God we make up, not just a God that we feel suits us and that we're comfortable with, not one that's just revered by our own religion or tradition," explains Anne Graham Lotz, the honorary chair of this year's National Day of Prayer, in a promotional video. "We're coming to the one true living God, the creator of all things, the one who came down in human form so that you and I might see Him and know Him and hear Him."
Lotz adds, "I wonder what would happen if all of us gathered together with one mind and one voice and we prayed and glorified the God and Father of our Lord Jesus Christ?"
Organizers anticipate that millions of Americans will find out on Thursday when they collect at churches, city halls, parks, courthouses, and elsewhere and pray for "the Lord's healing and renewing power [to be] made manifest."
"At this crucial time for our nation, we can do nothing more important than pray," reads a statement on the official event website.
The National Day of Prayer Task Force, the organizer of the annual nationwide event, states that although its efforts are "executed specifically in accordance with its Judeo-Christian beliefs," the "government-proclaimed day is offered to all Americans, regardless of religion, to celebrate their faith through prayer."
While an increasing number of participants in National Day of Prayer events have been Americans of various faiths, including Judaism, Islam, Hinduism and others, one group that definitely will not be joining the May 1 festivities is the American Humanist Association, which continues to successfully push for more states to recognize its "National Day of Reason."
President Barack Obama, adhering to a protocol started in 1952 by Congress and President Harry Truman, issues an official proclamation on the National Day of Prayer acknowledging Americans' "freedom to pray and exercise our faiths openly."
Obama, a Christian, has proclaimed, "Our laws protect these God-given liberties, and rightly so. Today and everyday, prayers will be offered in houses of worship, at community gatherings, in our homes, and in neighborhoods all across our country. Let us give thanks for the freedom to practice our faith as we see fit, whether individually or in fellowship."
Roy Speckhardt, executive director of the American Humanist Association, sees things differently.
"Our government has no business endorsing faith in prayer, which excludes millions of Americans who are good without a god," Speckhardt told The Christian Post on Wednesday.
"The National Day of Reason affirms our commitment to the separation of church and state while recognizing reason as the guiding principle of our secular democracy, that's something both religious and nonreligious people can agree upon. More and more people recognize that this is a better option than having government get involved in personal maters (sic) like prayer."
The AHA and the Washington Area Secular Humanists began promoting a National Day of Reason as a direct challenge to the National Day of Prayer in 2003. The coalition has been lobbying governors, mayors and city councils in various states to officially recognize the first Thursday of May as a National Day of Reason, with Rhode Island Gov. Lincoln Chafee doing so last week.
"Whereas, the application of reason, more than any other means, has proven to offer hope for human survival upon Earth by cultivating intelligent, moral and ethical interactions among people and their environments," reads Chafee's proclamation, which adds that "it is the duty and responsibility of every citizen to promote the development and application of reason."
In comparison, Chafee's proclamation acknowledging the National Day of Prayer, signed three days prior to his one on reason, states in part that "prayer provides peace and guidance in times of crisis and conflict; and … we give thanks for the many blessings and freedoms in our lives, communities, states, and nation, and through prayer seek to renew our dedication to being respectful and productive members of society."
While Christians and those of other faiths take time to bow their heads or bend their knees in prayer Thursday, atheists, secularists and humanists will be busy "(setting) the right example for how to effect positive change" through food drives, blood drives, and activism.
Lotz, the 2014 National Day of Prayer honorary chairwoman, was unavailable to provide comment to CP Wednesday due to her participation in the annual event kicking off in Washington, D.C.
Her invocation, to be read simultaneously across the nation at noon ET on May 1, was expected to "create a huge wave of prayer, flowing from one coast to the other, illustrating the unity of God's people and acknowledging His dominion over the circumstances facing us," according to organizers.
In her prayer, Lotz appeals to God's mercy and asks for His forgiveness, confessing that "we are covered with shame because we have sinned against You, and done wrong. We have turned away from Your commands and principles. We have turned away from You."
"So we choose to stop pointing our finger at the sins of others, and examine our own hearts and lives. We choose to acknowledge our own sin — our neglect and defiance and ignorance and even rejection of You. This day we choose to repent," she adds.
Read Lotz's 2014 National Day of Prayer invocation in its entirety here: http://www.christianpost.com/news/2014-national-prayer-by-anne-graham-lotz-full-text-audio-118885/
Learn more about the National Day of Prayer, organized by the nonprofit National Day of Prayer Task Force, online: http://nationaldayofprayer.org. Find events happening in your area: http://nationaldayofprayer.org/events/. Watch a live online broadcast of the 2014 National Observance of the National Day of Prayer in Washington, D.C., on Thursday, May 1 from 9 a.m.-12 p.m. ET: http://nationaldayofprayer.org/2014-national-observance/.