America's LGBT Population Rises to 4.5 Percent, Mostly Among Millennials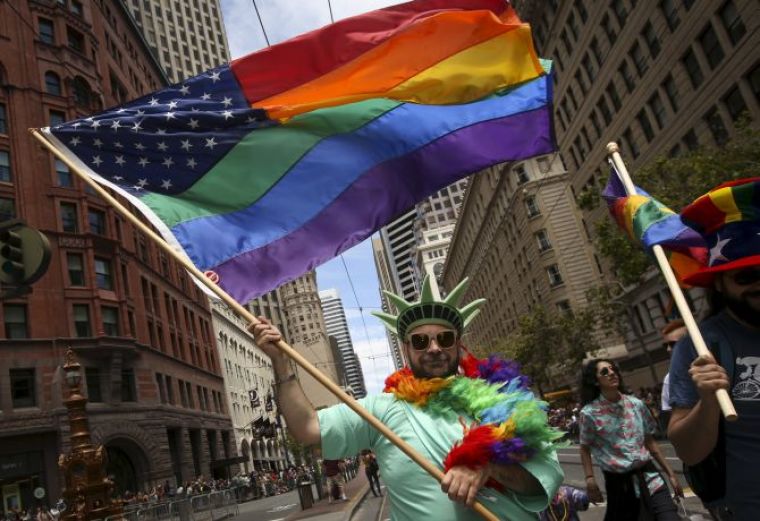 In the United States, the percentage of adults identifying as lesbian, gay, bisexual or transgender has increased to 4.5 percent, according to a year-long survey, which also shows that the biggest increase has been among millennials.
Gallup's daily tracking in 2017 has found that more than 11 million adults now identify as LGBT in the country, which is 4.5 percent of the population — up from 4.1 percent in 2016 and 3.5 percent in 2012.
The increase is driven primarily by the millennials, meaning those born between 1980 and 1999, as those from this group who identify as LGBT rose from 7.3 percent in 2016 to 8.1 percent in 2017. It stood at 5.8 percent in 2012.
In Generation X, meaning those born from 1965 to 1979, the LGBT percentage was up 0.2 percent from 2016 to 2017, the survey report notes, adding that no change was observed last year in LGBT percentage among baby boomers (those born 1946 through 1964), and among traditionalists (those born prior to 1946).
"A variety of factors can affect the willingness of adults to identify as LGBT," LGBT demographic expert Dr. Gary Gates notes in the report. "These can include how comfortable and confident survey respondents feel about the confidentiality and privacy of data collected."
The survey found that, just as in the past, women are more likely to identify as LGBT than men, but this gender gap has now expanded.
In 2017, overall 5.1 percent of women identified as LGBT, compared with 3.9 percent of men. "The change among men over time has been minimal, with the LGBT percentage edging up from 3.4% in 2012 to 3.7% both last year and this year. On the other hand, the percentage of women identifying as LGBT has risen from 3.5% in 2012 to 5.1% today, with the largest jump occurring between 2016 and 2017," the report says.
The study also discovered that LGBT identification is more common among those with lower incomes, just as in the past. "The income gap is larger this year than it has been, with 6.2% of those making less than $36,000 a year in household income identifying as LGBT, compared with 3.9% of those making $90,000 or more."
The results are based on telephone interviews with a sample of more than 340,000 American adults living in all 50 states and the District of Columbia, collected from Jan. 2 to Dec. 30 last year. The margin of error is ±0.1 percentage points at the 95 percent confidence level. 
Last year, a survey by LifeWay Research showed that when there's a conflict between faith and sexuality, about half of Americans, 48 percent, said religious freedom is more important.
A quarter, 24 percent, said sexual freedom is more important, and 28 percent weren't sure, LifeWay said.
Researchers also asked the respondents if the freedom they selected is always more important or usually more important.
Only one in 10 Americans said sexual freedom always matters most, and 14 percent said sexual freedom usually matters most. But 31 percent said religious freedom always matters most, and 17 percent said religious freedom usually matters most.
A national study by the Centers for Disease Control in September 2016 suggested that gay, lesbian and bisexual teenagers face more bullying and are also more likely to engage in violence-related risky behaviors, use of drugs and alcohol and consider attempting suicide.
More specifically, that study found that students who had engaged in bisexual or same-sex sexual relationships were far more likely to drink alcohol, use drugs, smoke cigarettes, and use hard drugs.