Another Woman Accuses Roy Moore of Sexual Harassment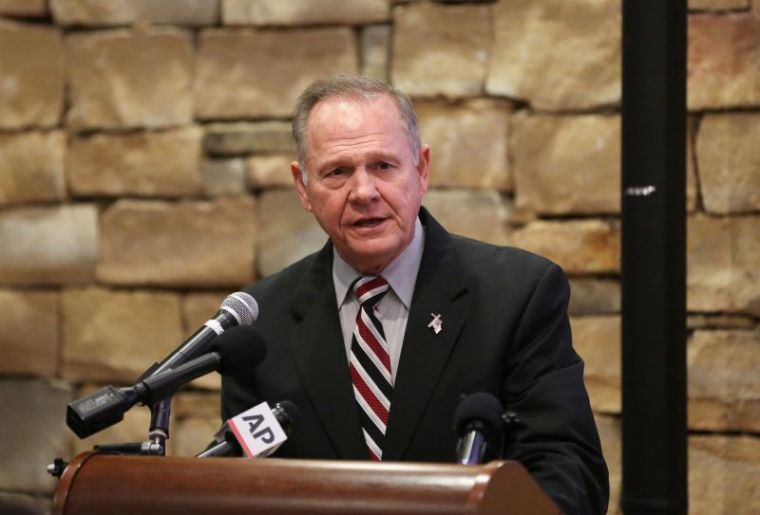 Another Alabama woman has come forward to accuse Republican candidate for U.S. Senate Judge Roy Moore of making unwanted advances, saying he grabbed her buttocks in his law office.
Then-attorney Moore groped Tina Johnson, who was 28 at the time and was visiting his office on Third Street in Gadsden with her mother in 1991, the woman claimed, speaking to al.com. If the allegations are true, Moore would have been married at the time. 
Johnson, who was headed toward divorce, was at Moore's office to sign over custody of her 12-year-old son to her mother.
"He kept commenting on my looks, telling me how pretty I was, how nice I looked. He was saying that my eyes were beautiful," she told AL.com, an Alabama newspaper.
At one point, Moore sat so close to her, she said, she could smell his breath. When she and her mother were leaving the office, Moore came up behind her and grabbed her buttocks. "He didn't pinch it; he grabbed it."
Also on Wednesday, two more women, Gena Richardson and Kayla McLaughlin, said Moore asked Richardson on a date in 1977 when she was a teen working at the mall, and he had a reputation for hitting on teen girls at the mall. Richardson agreed but ended the relationship after a "forceful kiss" from Moore made her feel uncomfortable. 
Earlier, a woman named Leigh Corfman accused Moore of initiating sexual encounters with her when she was 14. Three other women came forward, alleging Moore attempted to date them when they were between the ages of 16 and 18 and he was in his early 30s, though they clarified that he did not force them into any sort of sexual contact.
Also, Alabama resident Beverly Young Nelson alleged Monday that Moore groped her and tried to force her to perform oral sex when she was just 16.
"Mr. Moore began groping me, putting his hands on my breasts. I tried fighting him off, while yelling at him to stop, but instead of stopping he began squeezing my neck attempting to force my head into his crotch," Nelson, who was working as a waitress at the time, said. "I continued to struggle. I was determined that I was not going to allow him to force me to have sex with him. I was terrified. He was also trying to pull my shirt off. I thought that he was going to rape me. I was twisting and struggling and begging him to stop. I had tears running down my face."
Asked on Sean Hannity's radio show last week whether he had dated 17- or 18-year-old girls in the late 1970s and early 1980s, Moore said, "If I did, I'm not going to dispute these things, but I don't remember anything like that." He also said, "I don't know Ms. Corfman from anybody. The allegations of sexual misconduct with her are completely false."
Moore also issued a statement last week, denying the accusations that were first published in The Washington Post.
"It has been a tough 24 hours because my wife and I were blindsided by an article based on a lie supported by innuendo," he said. "It seems that in the political arena, to say that something is not true is simply not good enough. So let me be clear. I have never provided alcohol to minors, and I have never engaged in sexual misconduct. As a father of a daughter and a grandfather of five granddaughters, I condemn the actions of any man who engages in sexual misconduct not just against minors but against any woman."
Alabama is expected to hold a special election on Dec. 12 to fill the Senate seat vacated by Attorney General Jeff Sessions. Many GOP senators have called on Moore to drop out.
The conservative publication National Review also urged him to drop out. "There is almost certainly no way to independently confirm them, and Moore denies them strenuously. But the allegations are credible. There are four women who spoke on the record," the editors wrote. "Roy Moore is not a worthy standard-bearer for the Republican party, and his vulnerabilities are now endangering what should be a completely safe Senate seat."