Answers in Genesis Astronomer Explores Arguments That Jesus Christ Will Return on September 23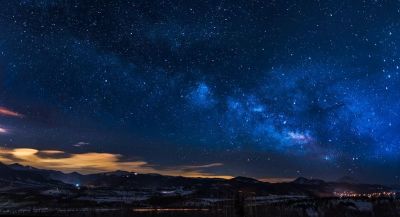 An Answers in Genesis astronomer analyzed biblical passages and star constellations that some are using to suggest that Jesus Christ will return on Sept. 23.
Dr. Danny Faulkner, a researcher and speaker for AiG, a young earth creationist organization, who holds an M.S. in Physics from Clemson University and an M.A. and Ph.D. in Astronomy from Indiana University, wrote in an article this week that some are pointing to several clues in the stars.
"This year the planet Jupiter is in the constellation Virgo," he wrote.
"Many websites are promoting the idea that Jupiter represents the child about to be born in the sign of Revelation 12:1–2. There are several arguments bolstered to support this claim. Jupiter was the king of the gods in Roman mythology (the equivalent was Zeus in Greek mythology). Therefore, Jupiter represents a king, and Christians recognize Jesus as the King of Kings (Revelation 19:16)," Faulkner continued.
"People reason that, being near the womb of Virgo, this king is soon to be born. Some argue that the length of time Jupiter is spending in Virgo or in Virgo's womb this year is equal to the human gestation period, which supposedly further enforces the supposed fulfillment of prophecy."
The Express reported on Thursday that "scores of YouTube doom videos and evangelical websites" have been hyping up the idea that an astrological constellation on Sept. 23 matches Revelation 12:1–2 in the Bible, which talks about the start of the Rapture and second coming of Christ.
The passage reads: "And a great sign appeared in heaven: a woman clothed with the sun, with the moon under her feet, and on her head a crown of 12 stars. She was pregnant and was crying out in birth pains and the agony of giving birth."
Faulkner explored in detail the significance of Sept. 23, but pointed to a May article of his, where he concluded that he expects "nothing unusual" to happen on the date.
The astronomer then tackled several different objections and challenges to his conclusion, along with other recent events some are trying to use to bolster their theories on the return of Christ.
He said that there is talk that the recent hurricanes, solar flares, and earthquakes might possibly herald the return of Christ, but noted that natural disasters have stricken with great devastation in the past as well.
While not specifying any date, evangelist Franklin Graham pointed to biblical passages describing signs pointing to the end times in the wake of the recent disasters.
"The Bible says in Luke 21:25, '...there will be signs in sun and moon and stars, and on the earth distress of nations in perplexity because of the roaring of the sea and the waves.' In Matthew 24:7 it says, 'For nation will rise against nation, and kingdom against kingdom, and there will be famines and earthquakes in various places.' These are some of the Biblical signs before Christ's return," Graham wrote on Facebook.
He explained that he is not trying to make a prediction about the date of Christ's return, but wanted to remind people that they need to repent and confess their sins and be ready for God.
Similarly, Faulkner stressed that the most important part of Jesus' message was not to figure out the date of His return, but to be prepared.
"I will, however, close with two points," Faulkner said. "First, to those who strongly disagree with me on what might happen on September 23, 2017, I suggest we wait until September 24, 2017, to have this discussion. If I am wrong, I will be happy to admit that I was wrong—but will those who disagree with me also be willing to do so?"
Secondly, he noted that as found in Matthew 24:36, Jesus said that no one other than the Father knows the day or hour when these things will come to pass.
"So I will ask the question again: are you ready?" he wrote.