Atheist Billboards Mocking 'Cracker' Jesus Banned in Australia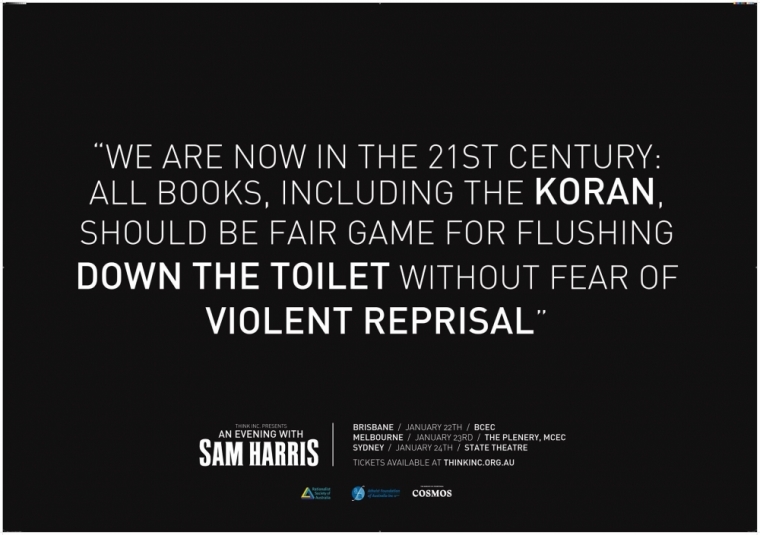 A series of billboards that promote atheist author Sam Harris' upcoming tour in Australia by attacking Catholic communion and the Quran have been banned.
Think Inc., the group that organized Harris' upcoming January tour in the country, had planned on posting the ads in Melbourne, Sydney and Brisbane.
The Herald Sun reported that advertising company APN Outdoor rejected the ads, stating that they do not
comply with the Outdoor Media Association's code of ethics, which prohibit material that vilifies religion.
One of the ads mocked the ritual of communion wafers, and stated: "Jesus Christ — who, as it turns out, was born of a virgin, cheated death, and rose bodily into the heavens — can now be eaten in the form of a cracker."
Another ad taking aim at Islam read: "We are now in the 21st century. All books, including the Qur'an, should be fair game for flushing down the toilet without fear of violent reprisal.''
Section 2.1 of the Outdoor Media Association's code of ethics states: "Advertisements shall not portray or depict material in a way which discriminates against or vilifies a person or section of the community on account of race, ethnicity, nationality, sex, age, sexual preference, religion, disability or political belief."
Think Inc. said in a Facebook message that it "strongly disagrees" that its ads are in breach of the code.
"We would like to publicly state that with them it is not at all our intention nor our mission to promote what has been perceived by APN as any kind of vilification, discrimination or bigotry towards any specific social group; what we do promote, however, is a rational and critical discourse of ideas, and the opening up of an intellectual dialogue that must be had," the group wrote, adding that the messages are taken verbatim from Harris.
The billboards have been criticized by religious commentators, such as Faith Communities council secretary the Rev. Ian Smith, who said that the ads "intended to incite hatred.''
"The one about Muslims is really offensive and that is the intention of it,'' said Smith. "And the one about Jesus — 90 percent of the Church would be offended. It is belittling, cheapening and shallow. I am all for freedom of speech, but not when it is designed to have a violent or negative reaction," he added.
Harris, who has written a number of books promoting the atheistic worldview, has also defended some aspects of spirituality, such as in his 2014 book Waking Up: A Guide to Spirituality Without Religion.
The author has also been an outspoken critic of Islamic extremism and has shot down suggestions by President Barack Obama that the Islamic State terror group, also known as IS, is not actually Islamic.
"Which will come first, flying cars and vacations to Mars, or a simple acknowledgment that beliefs guide behavior and that certain religious ideas — jihad, martyrdom, blasphemy, apostasy — reliably lead to oppression and murder?" he wrote in September 2014.