Babylon Bee Founder Discusses New Book, 'How to Be a Perfect Christian,' Importance of Satire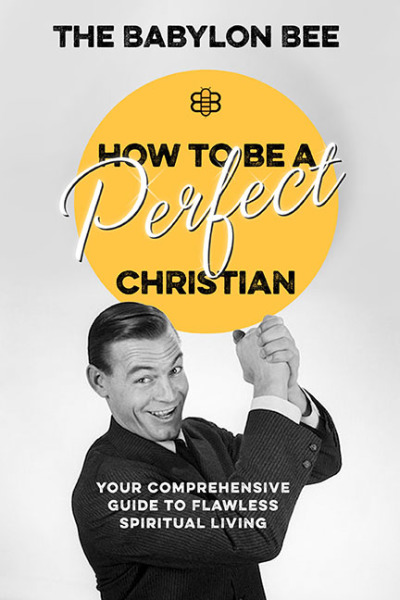 Ever wanted to become a perfect Christian but never knew how to do so? Well, then have no fear! A popular Christian satire site will tell you exactly how to transform into one guaranteed.
The Babylon Bee, a proudly fake news site created by web comics writer Adam Ford, is releasing its first book on May 1, titled How to Be a Perfect Christian: Your Comprehensive Guide to Flawless Spiritual Living.
The first chapter is already available on the Babylon Bee, with the site describing the book as "200 pages of new material which lays out a definitive guide to achieving perfection in your walk with Christ by conforming completely to every aspect of Western Christian Culture."
"A cohesive, paradigm-shifting work of art, How to Be a Perfect Christian is destined to go down as one of the most important pieces of literature in the history of Christendom," the Bee added.
Launched in March 2016, Babylon Bee has as of April over 380,000 likes on Facebook, approximately 94,000 followers on Twitter, and more than 51,000 followers on Instagram.
The Bee entertains with such stories as "Man Accidentally Performs Yoga Pose, Is Possessed By Horde of Demons," "Lakewood Church Issues Eclipse Glasses For Gazing At Joel Osteen's Teeth," and "Bill Nye To Dress Up As Real Scientist For Halloween."
During its time, the Bee has lightheartedly lampooned militant atheists, conservative evangelicals, President Donald Trump, Hillary Clinton, LGBT activists, contemporary church services, and, admittedly, this very publication.
Snopes.com, a website that seeks to fact-check rumors going around the internet, has several entries of false claims parroted on social media that derive from people citing the Bee.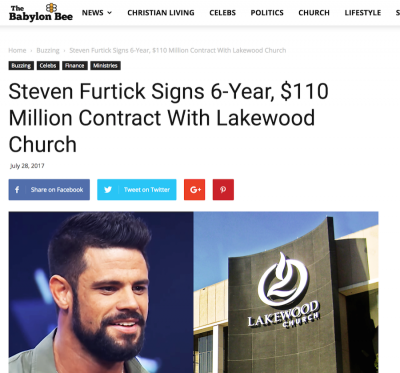 Adam Ford, the mind behind the website and book, responded to questions from The Christian Post via email regarding why he worked on satire, the challenge of writing a book, and his tendency to spare no one. Below are excerpts. 
CP: Before The Babylon Bee, you were known for your web comics. Why did you decide to largely shift your efforts to satire?
Ford: It happened organically, really. It was just God's plan. The Bee was an idea I had had for years, but when I started it I considered it a "side project." I felt strongly that it would fill a void in the internet, and that it would possibly become popular, but I had no idea it would blow up the way it did. The commitments and challenges of running such a sizable website soon took over, and I had to shift to focusing on the Bee almost exclusively. I had to make sure to do it right.
CP: Why did you decide to write this book?
Ford: I had our head writer [Kyle Mann] out to my home for a weekend last year and we discussed a million things, one of them being a book. It just seemed like a natural extension of the site. But we wanted it to be all new material, not a compilation of articles from the website or anything like that. We wanted it to be a whole, cohesive work. And we wanted it to be really, really good. We sat around in my office and tossed ideas back and forth, started drafting outlines, etc. Thus, How to Be a Perfect Christian was born.
CP: Was it a challenge to go from writing fairly short entries on The Babylon Bee website to a book-length satire piece?
Ford: Yes, there are obvious challenges to going from 200-word articles to a 30,000-word book — but there are also important advantages. A book can leave a much deeper impression than a short article. One of my main concerns while editing was maintaining the cohesiveness of the work.
It's a book with a lot of jokes in it, but the overall point is no joke. There's an overarching theme that's present from beginning to end, and I wanted all of those pieces to connect. I wanted the ending to wrap everything up and slap you upside the head. When a reader finishes the book, I want them to set it down and think for a while. Really think. I believe we accomplished that.
CP: I got a sense that with the various chapters poking fun at various groups and trends, that you did not spare anyone, so to speak. Was that your intention? 
Ford: One of our unwritten rules at the Bee is that the non-essentials contained within our own preferences and beliefs — our "camps" — need to be satirized just as much as others. It's good and healthy.
To satirize something is not necessarily to explicitly condemn it, by the way. It's to take some aspect of life -- many times something people don't usually talk about -- and, like an overhead projector, to plaster it up on a huge screen for everyone in the room to see. Then you have to think about it and talk about it. In this way satire can do the necessary work of distilling our beliefs and practices.
It makes us ask why we do the things we do.
CP: Do you have any concerns that people might think it's real?
Ford: Concerns? No. After 1,700 published articles I've accepted that no matter how over-the-top, outlandish, and nonsensical a satirical story is, there are some who will just not get it. So some people will undoubtedly think the book is serious advice. And what an indictment of Christian culture that will be.