'Batwoman' Co-Authors Quit After DC Comics 'Prohibited' Lesbian Marriage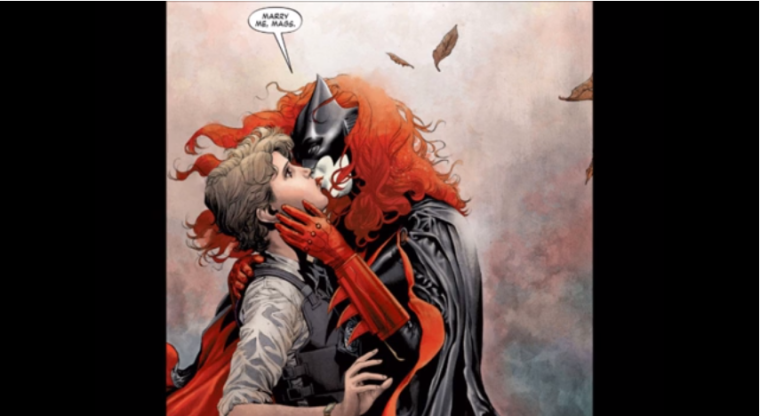 Co-authors of the DC comic "Batwoman," J.H. Williams and W. Haden Blackman, have announced they will be leaving the comic after the release of Issue 26 in December due creative issues with DC over the comic including a decision to nix the portrayal of Batwoman's lesbian wedding.
"In recent months, DC has asked us to alter or completely discard many long-standing storylines in ways that we feel compromise the character and the series," Williams and Blackman noted in a blog post reported on by The Hollywood Reporter.
"We were told to ditch plans for Killer Croc's origins; forced to drastically alter the original ending of our current arc, which would have defined Batwoman's heroic future in bold new ways; and, most crushingly, prohibited from ever showing Kate and Maggie actually getting married," noted the co-authors.
"All of these editorial decisions came at the last minute, and always after a year or more of planning and plotting on our end," they explained.
"We've always understood that, as much as we love the character, Batwoman ultimately belongs to DC," they wrote. "However, the eleventh-hour nature of these changes left us frustrated and angry -- because they prevent us from telling the best stories we can. So, after a lot of soul-searching, we've decided to leave the book after Issue 26," said the writers.
"We're both heartbroken over leaving, but we feel strongly that you all deserve stories that push the character and the series forward. We can't reliably do our best work if our plans are scrapped at the last minute, so we're stepping aside. We are committed to bringing our run to a satisfying conclusion and we think that Issue 26 will leave a lasting impression," they added.
Relaunched as a stand-alone series in 2010, Batwoman reflects a new origin story about caped heroine Kate Kane, an ex-member of the U.S. military academy who was forced to leave over her homosexuality.
In the 17th issue of the series in February Kate proposed to her girlfriend, Maggie Sawyer. It marked the first lesbian wedding proposal in the history of mainstream comics.