Ben Carson Attacked for Calling Slaves Immigrants but Obama Did the Same Thing Without Fanfare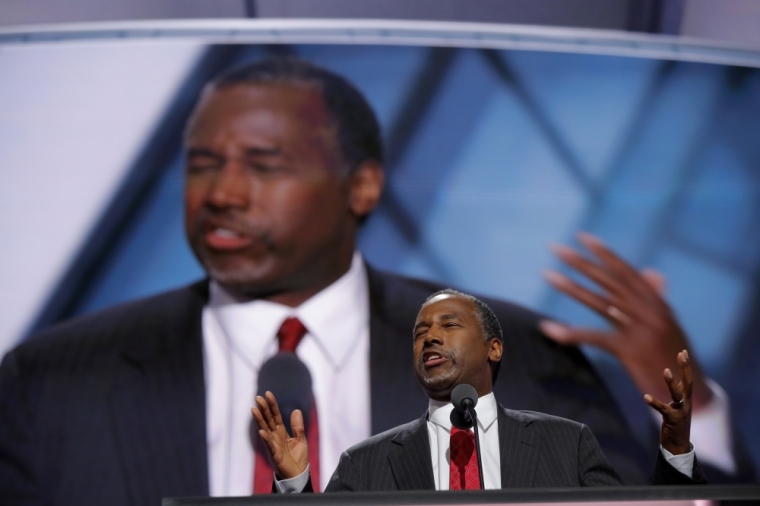 Newly minted Secretary of Housing and Urban Development Ben Carson is currently under fire for referring to slaves as immigrants. But former President Barack Obama said the same thing in 2015 without fanfare.
While Obama did not say "slaves" during his speech made during a naturalization ceremony at the National Archives, but he mentioned "those of African heritage who had not come here voluntarily" who "in their own way were immigrants themselves."
"And perhaps, like some of you, these new arrivals might have had some moments of doubt, wondering if they had made a mistake in leaving everything and everyone they ever knew behind. So life in America was not always easy. It wasn't always easy for new immigrants. Certainly it wasn't easy for those of African heritage who had not come here voluntarily, and yet in their own way were immigrants themselves. There was discrimination and hardship and poverty. But, like you, they no doubt found inspiration in all those who had come before them. And they were able to muster faith that, here in America, they might build a better life and give their children something more," Obama said, according to the Obama administration's archives.
Reacting to Obama's speech a year ago, Carl Arteaga wrote: "OBAMA ROCKS!! President Obama is one of the best things in the world right now, because unlike hopelessly out-of-touch, socially-inept, incompetent, and hate-mongering Republicans stinking up the halls on Capitol Hill and on campaign stops, Mr. Obama and his Administration are working very hard to find appropriate and effective resolutions to the difficult and complicated domestic and international matters of the moment!"
Carson quickly became the subject of liberal ridicule on Monday, however, when he referred to slaves as immigrants during his speech to HUD staff.
"That's what America is about, a land of dreams and opportunity," Carson said, according to USA Today. "There were other immigrants who came here in the bottom of slave ships, worked even longer, even harder for less. But they too had a dream that one day their sons, daughters, grandsons, granddaughters, great-grandsons, great-granddaughters, might pursue prosperity and happiness in this land."
The retired neurosurgeon was condemned by civil rights organizations such as the NAACP and the Anne Frank Center for Mutual Respect, an independent U.S. national organization that fights prejudice.
"This is as offensive a remark as it gets," said Steven Goldstein, executive director of the Anne Frank Center for Mutual Respect. "No, Secretary Carson. Slaves didn't immigrate to America. They were brought here violently, against their own will, and lived here without freedom. You do not get a pass because you are African-American, any more than President Trump gets a pass for his delayed and sometimes nonexistent responses to Antisemitism because he has Jewish relatives. Wrong is wrong, Secretary Carson. We condemn your statement, and suggest you try this one instead: Black Lives Matter."
High profile actor Samuel L Jackson also joined in the attacks with an incendiary tweet, branding Carson as an Uncle Tom.
"OK!! Ben Carson....I can't! Immigrants? In the bottom of SLAVE SHIPS??!! MUTHAF**** PLEASE!!!#d*ckheadedtom," Jackson noted.
Acknowledging that his comments were misconstrued by some, however, Carson further clarified his statement in a post on Facebook Monday.
"I'm proud of the courage and perseverance of Black Americans and their incomprehensible struggle from slavery to freedom. I'm proud that our ancestors overcame the evil and repression that we know as slavery. The slave narrative and immigrant narrative are two entirely different experiences. Slaves were ripped from their families and their homes and forced against their will after being sold into slavery by slave traders," he wrote.
"The Immigrants made the choice to come to America. They saw this country as a land of opportunity. In contrast, slaves were forced here against their will and lost all their opportunities. We continue to live with that legacy. The two experiences should never be intertwined, nor forgotten, as we demand the necessary progress towards an America that's inclusive and provides access to equal opportunity for all.
"We should revel in the fact that although we got here through different routes, we have many things in common now that should unite us in our mission to have a land where there is liberty and justice for all," he said.