Ben Carson Suspends Campaign After Death of Volunteer Braden Joplin in Crash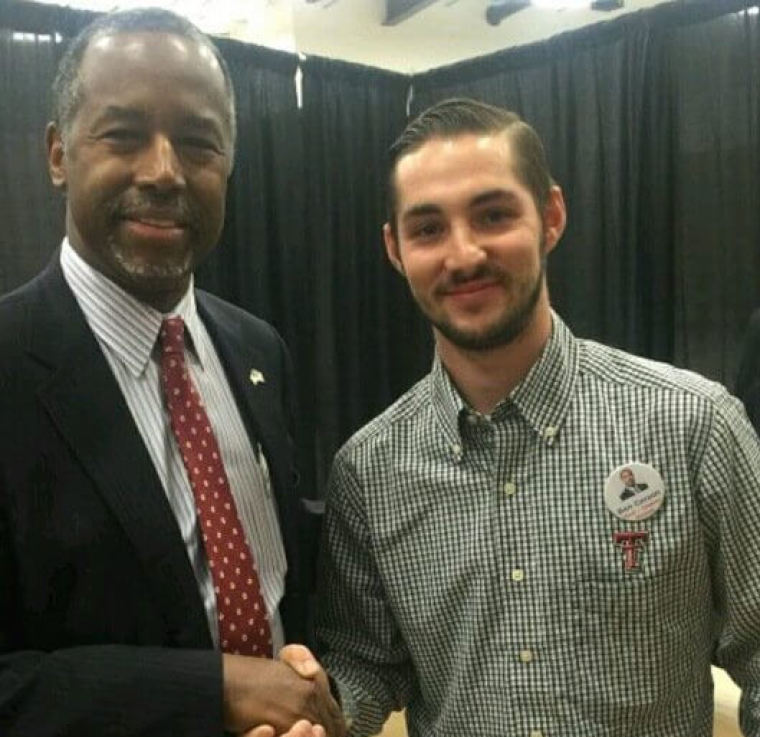 A teary-eyed Ben Carson announced Tuesday that he would suspend his campaign briefly after one of his young campaign volunteers died in a crash which left several others with injuries.
The volunteer, Braden Joplin, 25, was pronounced dead just after 4:30 p.m. after a collision along an icy highway in Iowa according to The Des Moines Register. Carson's campaign also confirmed details in a statement.
"Earlier today in Iowa, a van transporting three campaign volunteers and a Carson campaign employee hit a patch of ice and flipped on its side where it was struck by another vehicle. Three of the passengers, including the campaign staffer driving, are currently being checked out at Cass County Memorial Hospital in Atlantic, Iowa. One volunteer is being transported to the trauma center at the University of Nebraska Medical Center in Omaha, Nebraska," said the campaign.
"Dr. Carson has spoken with the family of the volunteer being transported to Omaha, as well as the attending physician. Dr. Carson has cancelled all remaining campaign events today and will be traveling to Omaha this afternoon to be with the family during this difficult time," the statement added.
In a follow-up statement about Joplin's death, Carson remembered him as a bright and enthusiastic young man.
"I had the privilege of knowing Braden Joplin personally, and am filled with a deep and profound sadness at his passing. While we mourn this profound loss, I am thankful that our other campaign colleagues, Drew McCall, Aaron Ohnemus and Ryan Patrick Shellooe, have all been treated and released from the hospital," he said.
The Des Moines Register said the GOP 2016 presidential candidate canceled his campaign schedule Tuesday and Wednesday, and that he made an emergency trip from South Carolina to Omaha, Nebraska where Joplin had been transported to the trauma center at the University of Nebraska Medical Center. The campaign also chartered a private jet to transport Joplin's family from Texas to Omaha.
"I hope his death will not be in vain. He wanted America to be a kinder and a gentler place," said Carson at a press conference after meeting Joplin's family at the University of Nebraska Medical Center.
"I just hope that maybe his death might help some people to think about the hard-heartedness that has infected our land. People are just mean and they just say things to try to hurt people. They don't care about anybody but themselves and he was just the opposite of that," added Carson.
In an earlier interview with the Register, Joplin said he was studying agriculture economics at Texas Tech University in Lubbock but decided to take off the spring semester "to save some money."
He told the paper that he started volunteering for the Carson campaign in Iowa on Jan. 4 and had planned on staying in the state for the entire month.
"He's an inspiring man," Joplin told the Register about Carson. "I feel like he can bring hope to a nation that's in turmoil."
"Even after more than 30 years experience counseling parents and family members in the most difficult of times, it never gets easier," said Carson on Joplin's death.
"But I find solace in the knowledge of God's redeeming grace, and I pray that Braden's family finds comfort in the mercy of the Lord. Across America today, I ask everyone to take a moment to reflect on the preciousness of life and remember and honor the memory of Braden Joplin," he added.
Carson was joined at the press conference held at the University of Nebraska Medical Center by his wife Candy who has been getting a lot of praise for a recent piano recital of "Via Dolorosa." Watch it below.