Benny Hinn's Prayer Conference Appearance in India Cancelled After Hindu Outcry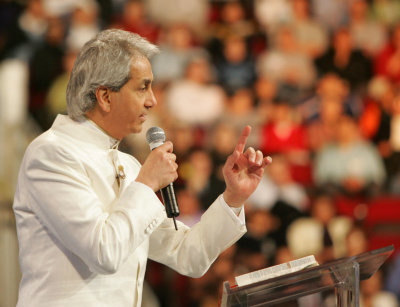 Evangelist Benny Hinn has cancelled his trip to Bangalore, India where he was to participate in a prayer conference this week. The cancellation, reportedly due to a "visa problem," comes amid protests among Hindu groups who were concerned about Hinn converting their countrymen to Christianity.
Kamal Panth, the Additional Commissioner of Police (Law and Order), revealed to the press on Tuesday that organizers of the Christian Prayer Conference had informed the authorities that Hinn's visit had been cancelled.
"Earlier organizers had said he will be coming; recently they have sent us a letter with names of pastors attending, which does not mention his name — so they have said he is not coming," Panth was quoted as saying.
Hinn has since scrubbed any reference to the Jan. 15-19 conference from the itinerary on his official website, which now lists a "special anointing service" in Dubai as his next engagement on Jan. 24.
Hindu groups in the Indian State of Karnataka, of which Bangalore is the capital, had been gathering in protests since last week to demand that lawmakers keep Hinn from attending the Christian Prayer Conference being hosted by the local Bethel Assembly of God Church. The faith-healer was targeted by Hindu activists for allegedly "coming to Karnataka with a hidden agenda of converting Hindus to Christianity," referencing Hinn's 2005 visit to the region that saw a mass turnout.
During his 2005 visit for the "Festival of Blessings, "10,000 law enforcement officials were deployed at the Jakkur airfield where the crusade was held. Meanwhile, locals rioted in the streets, setting buses on fire and prompting businesses to close their doors. Hindus comprise 80.5 percent of India's population of 1.2 billion, with Muslims being about 13.4 percent and Christians 2.3 percent of the population.
The Christian Prayer Conference will go on without Hinn, and local authorities have not strayed from their plans to provide ample security to avoid repeat unrest in the city.
While Hinn's website no longer references the Christian Prayer Conference, event host Bethel Assembly of God Church was still advertising the evangelist's appearance on both its website and on the event wbsite Tuesday. The event has been extended for an additional two days. There was also a message from organizers on the website that put into question the exact reason for Hinn's reported cancellation: "We thank God for helping us obtain all permissions required for visa clearance for Pastor Benny Hinn (and) others." It was unclear when the message was posted on Bethel Assembly of God Church's website.
The purpose of the conference was to bring together Christian ministry leaders "for a time of unity, prayer and fellowship" and to provide a "unique moment to refresh and enlarge the vision and the call of God." Others scheduled for the prayer conference include Pastor Paul Dhinakaran, an evangelical preacher whose father (Duraisamy Geoffery Samuel Dhinakaran) has been called "the Billy Graham of India" by Lakewood Church Pastor Joel Osteen, Nigerian televangelist Pastor Chris Oyakhilome, and Bethel Assembly of God Church Senior Pastor M.A. Varughese.
Watch video news coverage of Benny Hinn's prayer conference cancellation: