Bill O'Reilly Says Mass Murders Are the 'Price of Freedom' as Nation Reels From Las Vegas Attack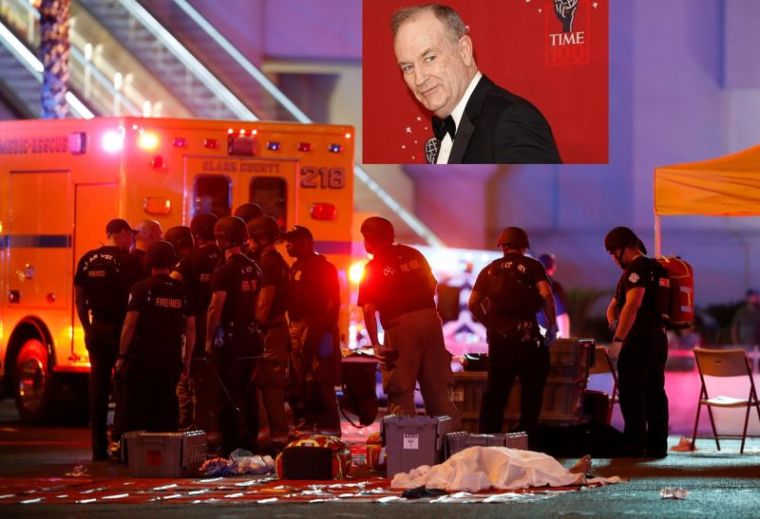 Popular political commentator Bill O'Reilly staunchly defended the Second Amendment and the right of everyone, including "loons," to bear arms Monday, calling mass murder "the price of freedom" as America reeled from the worst mass shooting in U.S. history.
"This is the price of freedom. Violent nuts are allowed to roam free until they do damage, no matter how threatening they are. The Second Amendment is clear that Americans have a right to arm themselves for protection. Even the loons," O'Reilly declared on his website Monday in the aftermath of the shooting.
Law enforcement told The New York Times that on Sunday night, retired accountant Stephen Paddock, 64, smashed the windows of his suite on the 32nd floor of the Mandalay Bay Resort and Casino with a hammer and fired at a crowd of 22,000 people.
The people were attending the Route 91 Harvest Festival, a three-day open air country music event about 400 yards away from the hotel, according to CNN. At least 59 people were killed and another 527 injured by gunfire or while running to safety, police said.
The shooting has sparked renewed cries from a coalition of gun control activists, including Jimmy Kimmel. It has also made new converts like Caleb Keeter, lead guitarist of the Texas-based Josh Abbott Band. The band performed at the festival on Sunday afternoon, just hours before the deadly shooting.
"I've been a proponent of the 2nd amendment my entire life. Until the events of last night. I cannot express how wrong I was. We actually have members of our crew with [Concealed Handgun Licenses], and legal firearms on the bus. They were useless," Keeter wrote in a statement on Twitter Monday.
"We couldn't touch them for fear police might think we were part of the massacre and shoot us. A small group (or one man) laid waste to a city with dedicated, fearless police officers desperately trying to help, because of access to an insane amount of fire power. Enough is enough," he continued.
"We need gun control RIGHT. NOW. My biggest regret is that I stubbornly didn't realize it until my brothers on the road and myself were threatened by it. We are unbelievably fortunate to not be among the number of victims killed or seriously wounded by this maniac."
Police told The New York Times on Monday that they still had no idea what Paddock's motive was for the shooting. They said 23 firearms were found in his suite, and when they searched his house they found an additional 19 firearms. Sheriff Joseph Lombardo of the Las Vegas Metropolitan Police Department also told the publication that "some explosives, and several thousand rounds of ammo" were found.
Despite the outcry, however, O'Reilly insisted that the shooting was simply "the big downside of American freedom."
"Once again, the big downside of American freedom is on gruesome display. A psychotic gunman in Las Vegas has committed the worst mass murder in U. S. history ... But having covered scores of gun-related crimes over the years, I can tell you that government restrictions will not stop psychopaths from harming people," he said. "They will find a way."
"Public safety demands logical gun laws but the issue is so polarizing and emotional that little will be accomplished as there is no common ground. The NRA and its supporters want easy access to weapons, while the left wants them banned."
Responding to a question on whether it was time for President Donald Trump to begin discussing tighter gun laws and background checks, White House Press Secretary Sarah Huckabee Sanders said it was "premature."
"There's a time and place for a political debate, but now is the time to unite as a country," Sanders said.
"There's currently an open and ongoing law enforcement investigation. A motive is yet to be determined, and it would be premature for us to discuss policy when we don't fully know all of the facts or what took place last night," she added.