Bishop Decries 2 Josephs 'Gay Nativity': 'Pray Jesus Will Forgive This Sacrilege'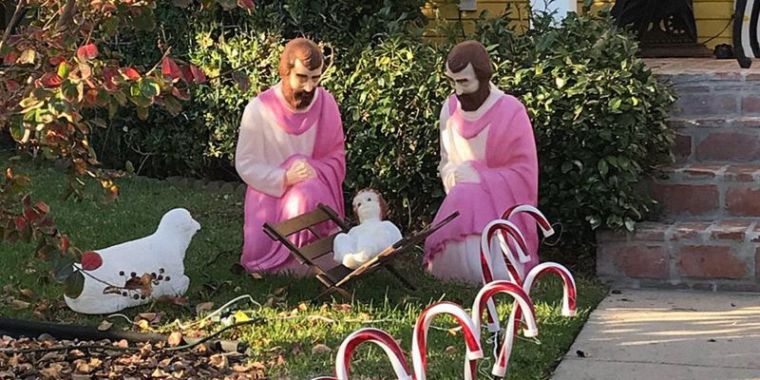 The Roman Catholic bishop of Providence, Rhode Island, has decried online postings of a "gay nativity" scene featuring two Josephs watching over a baby Jesus, calling on God to forgive such "sacrilege."
"Just came across this photo of a 'gay nativity' scene — two Josephs dressed in pink watching over the Christ Child. How sad that someone believes it's OK (or funny or cool) to impose their own agenda on the holy birth of Jesus," Bishop Thomas J. Tobin wrote on Facebook Tuesday.
"Pray for those who did so, for their change of heart, and that Jesus will forgive this sacrilege, this attack on the Christian faith," he added.
Tobin also posted a cropped version of the nativity scene in question, which depicts the two Josephs dressed in pink.
The photo appears to stem from the Twitter account of comedian and LGBT activist Cameron Esposito, who last week shared the image and wrote: "Our neighbors' two Joseph nativity is up & I'm beaming."
Jesus being depicted as having two gay parents was also a theme in some Christmas ornaments last year.
California artist Mark Thaler decided to sell gay marriage nativity tree ornaments featuring two gay Josephs or two gay Marys, which stirred condemnation from conservatives.
Christian Concern Chief Executive Andrea Williams accused Thaler at the time of taking part in a "blasphemous attempt to rewrite the Christmas story."
"These decorations are a desperate and ridiculous attempt to pretend that homosexual relationships are pure and holy," Williams said.
"They blasphemously portray the Lord Jesus being parented by a homosexual couple. What depths will the LGBT lobby stoop to in order to try and normalize their behavior?" she asked.
Williams also accused activists of being interested only in their own agenda rather than the welfare of children.
"God's design is for children to grow up with a male and a female parent. The Lord Jesus was parented in this way, and this is what is best for children," she said at the time.
American Catholics have had to deal with controversial LGBT issues this year, especially in light of Fr. James Martin, a prominent Jesuit priest, and his book that urged believers to be more accepting of LGBT people.
Although Martin, who is editor-at-large of the Jesuit magazine America and a Vatican adviser, does not address gay marriage theology in Building a Bridge, the nature of his book led him to being disinvited from a speaking appearance at the Theological College in Washington, D.C. in September.
A statement at the time explained that "since the publication of his (Martin's) book, Building a Bridge, Theological College has experienced increasing negative feedback from various social media sites regarding the seminary's invitation."
Martin in turn said that he is being criticized both from the the "far left" and the "far right."
"From the far left it would be 'Not far enough,' and from the far right, 'Too far,'" he said at the time, while admitting that he was surprised at "the torrent of hatred that it would unleash from the Catholic alt right."