Bishops Oppose Catholic Universities Offering Extended Benefits to Same-Sex Spouses of Their Employees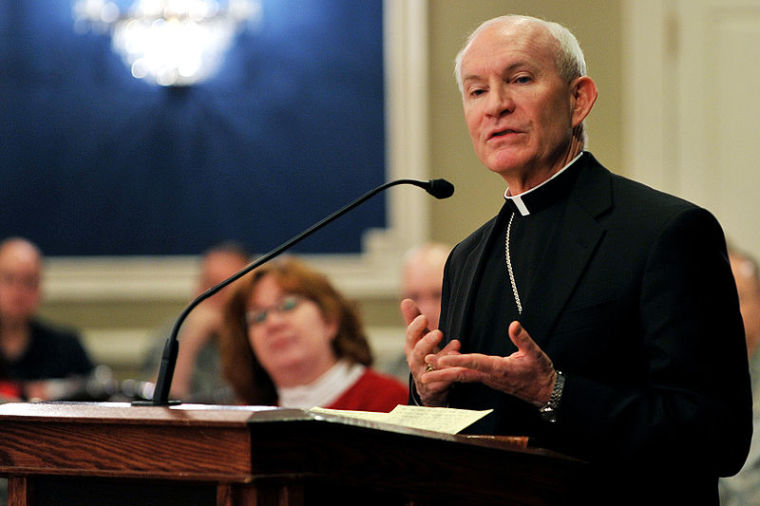 As more Catholic and Jesuit universities in the United States begin offering benefits to the same-sex spouses of their employees, Catholic church leaders are starting to speak out in objection to their local universities starting to provide those benefits to gay and lesbian spouses.
Creighton University in Omaha, Nebraska became the latest Jesuit institution to offer the benefits to the same-sex spouses of their employees, as the school announced the change in its policy last week.
Although the state of Nebraska currently has a ban against gay marriage, the president of Creighton University, the Rev. Timothy Lannon, said the decision was made so that those employees who were wed to a member of the same-sex in another state could receive the same treatment all of the other married employees are receiving.
"Many other Catholic universities, including 21 of the 28 Jesuit universities in the U.S., have done the same," Lannon said in a letter to the university's board of trustees. "The extension of benefits is not a statement of approval of same-sex marriages but rather an acknowledgement of our responsibility to serve the needs of faculty and staff who faithfully serve our students and patients every day."
Archbishop of Omaha, George Lucas, issued a statement last week stating that he thought the Creighton's decision disobeyed the Lord's will, which calls for marriage to be between only a man and a women.
"Despite Father Lannon's claim that this is not a statement of approval of same-sex marriages, this is precisely the message that the University is giving," Lucas wrote. "I am dismayed that the recommendation of the University Benefits Committee is thought to supersede divine law regarding marriage."
Lucas further opined that in the battle between religious beliefs and the modern political climate, it is acceptable for a Catholic institution to stick by its "Catholic Intellectual tradition." He criticized the school for not doing that.
"There is no tension between Catholic teaching and social justice. Both are grounded in the same truths about the nature of the human person, the complementarity of man and woman and the meaning of human life and love," Lucas wrote. "When we experience tension in ensuring respect and just treatment for all persons, including those with same-sex attraction, we have a right to expect a Catholic university to help us see a just path forward, rooted in faith and founded on the rich Catholic intellectual tradition. Creighton has failed to fulfill this expectation in this expansion of benefits."
Former Vice Chancellor of the Omaha Archdiocese Ryan Lewis also thinks the school's decision abandons God's will.
"The Church needs to teach clearly on this and sadly strong winds of popular culture is blowing and Father Lannon put his finger up in the air to see which way the wind was blowing and abandoned what is divine law on marriage," Lewis told the Nebraska Radio Network.
Notre Dame University in Indiana announced in early October that it would extend its benefits to the same-sex spouses of its employees. Unlike Creighton in Nebraska, Notre Dame officials believe they were physically required by the Indiana's law to offer to the benefits to same-sex spouses, since Indiana recently began recognizing same-sex marriages.
Although Notre Dame felt it was required to offer the benefits, university officials say that the school still supports the traditional Catholic teaching of marriage. However, Notre Dame president, the Rev. John Jenkins, also said this move would act as a call to "cherish" gays in the community.
"We recognize an urgent call to welcome, support, and cherish gay and lesbian brothers and sisters, who have been too often marginalized and even ostracized, and many of whom bear the scars of such treatment," Jenkins said.
Bishop Kevin Rhoades of the Diocese of Fort Wayne-South Bend wrote in a column in his diocese newspaper that although Notre Dame has affirmed its belief in the traditional Catholic teaching of marriage, the school should lobby for religious exemption when it comes to providing health benefits.
"As a Catholic university, it is important that Notre Dame continues to affirm its fidelity to Catholic teaching on the true nature of marriage as a union of one man and one woman," Rhoades said. "I have communicated to Notre Dame my conviction that this affirmation should also include efforts to defend the religious liberty of our religious institutions that is threatened in potentially numerous ways by the legal redefinition of marriage, including the government forcing our Catholic institutions to extend any special benefits we afford to actual marriage to same-sex 'marriage' as well.
" I have asked the Notre Dame administration to work together with the Indiana Catholic Conference on these efforts."