Boehner Challenger Loses Job at Christian University for 'Electile Dysfunction' Campaign Ad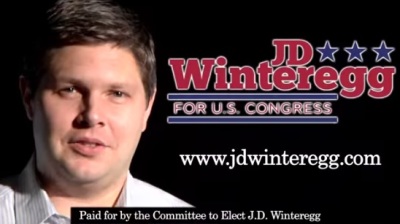 A Tea Party candidate challenging Speaker of the House John Boehner (R-Ohio) in the upcoming Republican primary elections was recently fired from his adjunct teaching job at a Christian university after he made a sexually suggestive campaign ad that called for curing "electile dysfunction."
J.D. Winteregg, considered to be a long-shot opponent against Boehner, recently released an attack ad against the current Speaker of the House, mocking his last name and his perpetual tan, among other things. The one-minute long advertisement spoofs a commercial promoting drugs for erectile dysfunction, such as Viagra. Instead of "erectile dysfunction," the advertisement, entitled "When the Moment is Right," suggests Ohio residents cure their "electile dysfunction" by voting Boehner out of the House.
"If you have a Boehner lasting longer than 23 years, seek immediate medical attention," the advertisement says in between low-grade production shots of couples drinking out of coffee mugs that read "Winteregg."
"Other signs of 'electile dysfunction' may include extreme skin discoloration, the inability to punch oneself out of a wet paper bag or maintain a spine in the face of liberal opposition," the advertisement continues, referencing the Speaker's orange-hued tan that some describe as fake.
The advertisement then recommends "Winteregg" for Congress, suggesting the Tea Party candidate will "help you every time the moment is right to have your voice heard at the federal level."
After Winteregg's comedic advertisement received a viral response online, Cedarville University, the Christian college where Winteregg teaches as an adjunct French professor, confirmed that they would not be renewing the candidate's teaching contract next semester.
According to the New York Daily News, Winteregg told reporters that Cedarville University, a Baptist university located in Ohio, said "because of the nature of the ad, we feel we need to end the relationship at this time."
Mark Weinstein, a spokesman for the university, released a statement saying the advertisement did not agree with Cedarville's values as a Christian university.
"When faculty or staff members participate in political conversations, interviews, advertisements, or endorsements, they are doing so as individual citizens. Mr. Winteregg in his recent political campaign video did not represent the views or values of Cedarville University."
"Cedarville University does not engage in partisan politics and holds a high regard for displaying Christian values in the community," the statement added.
Winteregg, who reportedly taught one online French class for the university, told Fox News that he does not regret making the advertisement, even though it cost him one of his day jobs. "I'm all in with this. You got to do this the right way. People lose elections because they are passive, and I'm going to fight for this."
Winteregg and another challenger, Eric Gurr, will be campaigning against Boehner ahead of the Republican primary on May 6. As ABC News reports, a sitting House speaker has never been defeated in a primary.