Teen Suicide Bomber Halts Plan After Finding Out Father May Be Killed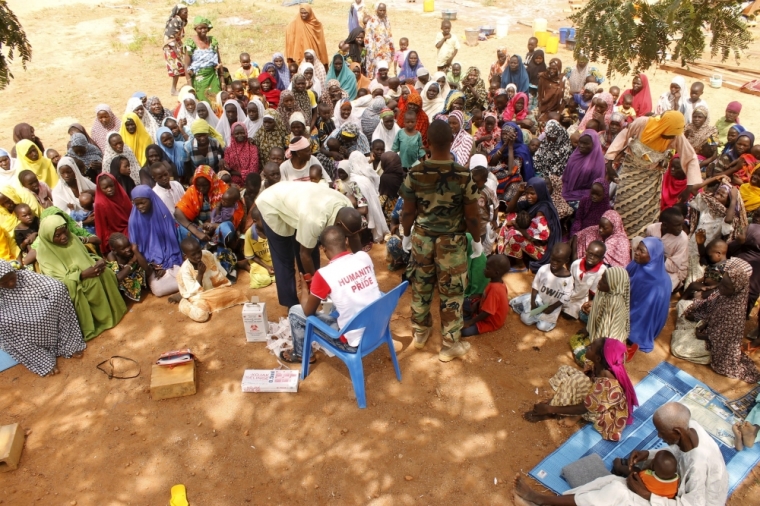 A teenage suicide bomber recently abandoned her mission to attack a refugee camp in northeast Nigeria on behalf of the Boko Haram terrorist organization.
The young girl, whose name has not been released, was sent to the Dikwa refugee camp with two others to carry out a suicide mission on Tuesday morning.
While the other two female bombers detonated their vests, killing 58, the third recruit abandoned her explosives and fled the camp. She was later found by authorities, who said she admitted to participating in the plot, but ultimately fled for fear of killing innocent lives.
"She said she was scared because she knew she would kill people. But she was also frightened of going against the instructions of the men who brought her to the camp," Modu Awami, a local soldier in northeast Nigeria, told the Associated Press.
Algoni Lawan, a spokesman for the local government, added to AP that the girl was also concerned she may kill her own father, who was staying at the camp.
"She confessed to our security operatives that she was worried if she went ahead and carried out the attack that she might kill her own father, who she knew was in the camp," he said.
Satomi Alhaji Ahmed, head of the Borno State Emergency Management Agency, confirmed to CNN that the other two female bombers who participated in the attack were between the ages of 17 and 20.
"There were three female bombers who entered the camp around 6:30 a.m. disguised as displaced persons," Ahmed said, adding that "two of them set off their explosives in the camp while the third refused after realizing her parents and siblings were in the camp."
Authorities have confirmed that the teenage girl was able to reveal more suicide bombings planned for the area.
Along with the 58 people killed in the Tuesday morning terror attack, another 78 people were injured. The camp is home to 50,000 people displaced from their homes by Boko Haram.
The Associated Press reports in a separate article that the terrorist group has begun using young suicide bombers to attack refugee camps and other public places following a crackdown by Nigeria's military forces.
In December 2015, a young female recruit between the ages of 11 and 15 detonated her vest in Beninsheikh, in Nigeria's Borno State, killing eight.
The girl, recruited by Boko Haram, carried out the attack after local authorities asked to frisk her at a checkpoint.
Following the December attack, the Nigerian government released a statement warning civilians to be aware of unconventional suicide bombers, including young children and women.
"Suicide bombers used monetary incentives and other inducements especially in crowded places to lure innocent citizens in order to cause colossal damage to both lives and property. People should be vigilant and wary of terrorist malevolence in such places as parks, worship centres and recreation spots particularly in this festive period," the statement read.
As The Christian Post previously reported, a ten-year-old girl and an elderly woman carried out a suicide bombing attack at a prayer circle in Damaturu last July, killing 12.
The attack prompted the Christian Solidarity Worldwide watchdog group to describe Boko Haram as a "death cult."
"Despite its pseudo-religious pronouncements, with every atrocity Boko Haram illustrates it is no more than a death cult that indoctrinates members to kill without conscience, regardless of the creed espoused by its victims," CSW said in a July 2015 statement.