Breitbart Staff Resign After Trump Campaign Manager Manhandles Female Reporter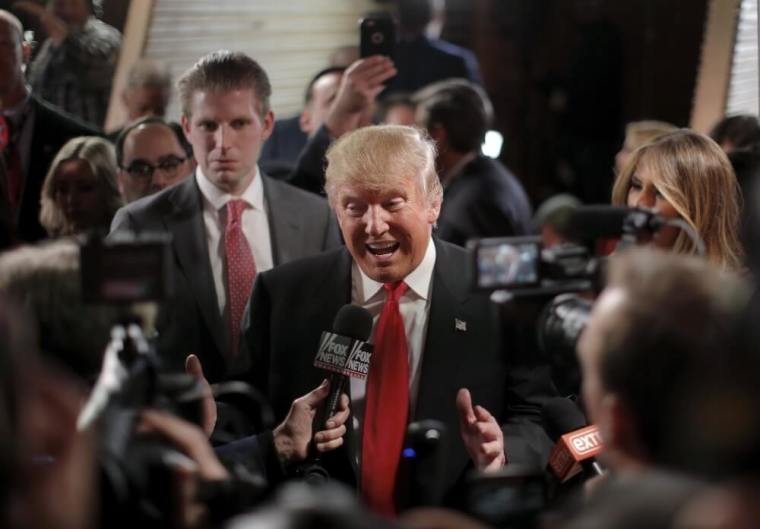 A Breitbart reporter and editor-at-large have resigned from their positions at the conservative news website following an alleged incident with Donald Trump's campaign manager.
Former Breitbart reporter Michelle Fields announced Sunday evening that she had left the publication due to its response to her claims that Trump campaign manager Corey Lewandowski allegedly assaulted her when she attempted to the presidential candidate a question.
"Today I informed the management at Breitbart News of my immediate resignation," Fields said in a statement to Buzzfeed Sunday. "I do not believe Breitbart News has adequately stood by me during the events of the past week and because of that I believe it is now best for us to part ways."
Ben Shapiro, Breitbart's editor-at-large, also announced his resignation in a statement to Buzzfeeed, saying the publication should be "ashamed" of how it handled the Trump incident, calling the ordeal "disgusting."
Shapiro added that Breitbart has become a personal mouthpiece for the Trump campaign, saying that while he remains good friends with the publication's CEO, editor-in-chief and editor-at-large, he believes Executive Chairman Steve Bannon is a "bully."
"Steve Bannon is a bully, and has sold out [Andrew Breitbart's] mission in order to back another bully, Donald Trump; he has shaped the company into Trump's personal Pravda, to the extent that he abandoned and undercut his own reporter, Breitbart News' Michelle Fields, in order to protect Trump's bully campaign manager, Corey Lewandowski, who allegedly assaulted Michelle," Shapiro said.
The incident took place last Tuesday, when Fields said she was roughly grabbed and pulled by Lewandowski as she attempted to ask Trump a question following a speech in Florida.
Fields subsequently wrote a short explanation of the incident for Breitbart, saying she was "jolted backwards" when "someone had grabbed me tightly by the arm and yanked me down."
"I almost fell to the ground, but was able to maintain my balance. Nonetheless, I was shaken," Fields said, adding that no matter the circumstances of the incident, "Lewandowski would be out of line."
"Campaign managers aren't supposed to try to forcefully throw reporters to the ground, no matter the circumstance," she added.
Fields' account of the incident was backed by Ben Terris of The Washington Post, who said he witnessed the grabbing. Fields also shared a photo on her Twitter account that shows bruising on her arm.
C-SPAN and Politico also shared video and audio footage that appeared to corroborate Fields' account.
The reporter then filed criminal charges against Lewandowksi at the Jupiter Police Department in Florida.
Trump's camp denied Fields' claims, with the presidential candidate suggesting that the reporter "made the story up."
"Everybody said nothing happened. Perhaps she made the story up. I think that's what happened," Trump told CNN last week.
Lewandowksi added in a tweet that Fields' claims were "delusional."
Breitbart's CEO and President Larry Solov then issued a statement, saying it's "obviously unacceptable that someone crossed a line and made physical contact with our reporter."
"What Michelle has told us directly is that someone 'grabbed her arm' and while she did not see who it was, Ben Terris of The Washington Post told her that it was Corey Lewandowski. If that's the case, Corey owes Michelle an immediate apology," Solov added.
Fields offered a different account of what happened to Fox News' Megyn Kelly, saying: "I told my editor, and he called Corey and he spoke to him, and Corey said that he did it. He did not deny it. He said that he didn't realize that I was a Breitbart reporter. Hope Hicks, who is Donald Trump's spokeswoman, asked for my cell phone number, and I was told that I was going to get an apology. So I waited on that. I didn't want to make a big deal — this wasn't going to be a big deal. They were going to apologize; we were going to move on."
"I never got that apology," Fields added.
Breitbart also published subsequent articles that appeared to question the incident, including video that sought to debunk Terris' account of the altercation, suggesting that while the assault did take place, Lewandowski was not involved.
The conservative publication's reporter Matthew Boyle then wrote an article saying that text messages between him and Lewandowksi disproved an account of the incident by The Daily Beast.
Buzzfeed also reported on internal chat room conversations among Breitbart employees that showed editor-at-large Joel Pollak asking reporters to stop "tweeting" and "speculating" about the story.