Britain's Next Prime Minister Will Be a Woman, First Since Margaret Thatcher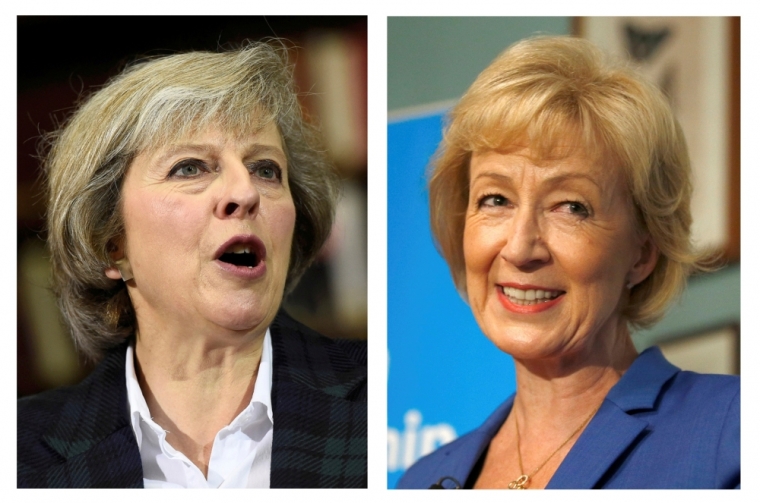 The next U.K. prime minister will be a woman, results from the Members of Parliament ballot confirmed on Thursday, with the battle for the Conservative Party leadership set to be between Home Secretary Theresa May and Energy Minister Andrea Leadsom.
BBC News reported that May won the second MPs ballot with 199 votes, while Leadsom picked up 84 of the votes. Justice Secretary Michael Gove dropped out of the race after receiving only 46 votes, leaving May and Leadsom in a head-to-head battle for the post that David Cameron is vacating.
Five Conservative contenders had initially been campaigning for Cameron's post, but that number is now down to two, with results expected to be announced on Sept. 9.
May has said she is "delighted" with the support she has received so far.
"This vote shows the Tory party can come together and unite, and under my leadership it will," she said, according to The Guardian.
"We need strong, proven leadership to negotiate the best deal for Britain as we leave the European Union, to unite our party and our country and to make Britain a country that works not for a privileged few but for every one of us," she added, referring to the June 23 referendum in which the majority of U.K. citizens voted to leave the EU.
Leadsom, a committed Christian who says she participates in a Bible study group in Parliament, said she is looking to "banish the pessimists" on the risks to the economy of leaving the EU.
Her campaign chief, Tim Loughton MP, made note of the fact that the next prime minister will be the country's first female leader since Margaret Thatcher, who led the U.K. from 1979 to 1990.
"It was absolutely right that this would be an all-women shortlist. We have two strong women. We can now give the party a real choice. A remain woman; a leave woman. They both happened to go to state schools. They are both women. Hey, that's pretty quirky for the Tory party," Loughton added.
Leadsom's lack of government experience has been highlighted by her departmental boss, Energy Secretary Amber Rudd, who has backed May in the vote, noting that Leadsom has only served for two years in a Cabinet role.
Others, however, such as former worker and pensions secretary Iain Duncan Smith, have insisted that she would "develop" over the coming weeks and get "better and better and better."
Gove meanwhile said that he is "naturally disappointed" to have to drop out of the running for prime minister, but praised the remaining contenders as "formidable politicians."
Though he did not immediately announce his backing for either May or Leadsom, he said that he welcomes the fact that the U.K. will have its second female prime minister, and called for a "civilised, inclusive, positive and optimistic debate."