British PM David Cameron Says 'Christian Message Is the Bedrock of a Good Society;' Critics Say PM's Easter Column Is an Attempt to 'Woo Christians' Ahead of May 7 Elections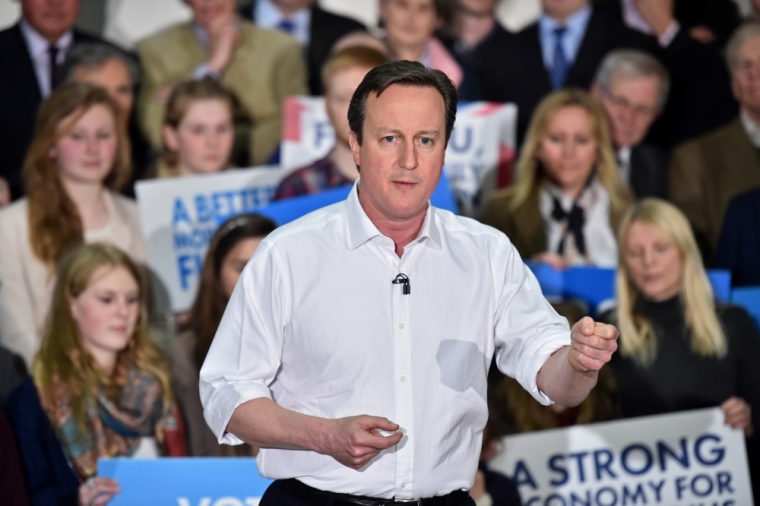 British Prime Minister David Cameron has written an Easter Message where he said that even though he can't call himself a "model church-going, God-fearing Christian," he relies strongly on his faith, and believes that Christianity is "the bedrock of a good society."
Some, such as Madeleine Teahan, the associate editor of the Catholic Herald, have said that the message is an attempt to "woo Christians" ahead of the general elections.
Cameron wrote in an article for Premier Christianity that all people can celebrate the values of Easter, which he identified as "compassion, forgiveness, kindness, hard work and responsibility."
He added that according to his beliefs, "the Christian message is the bedrock of a good society," because compassion "is the center piece of a good community." The British PM added that faith is an inspiration for millions of people to make a positive difference in their communities.
Cameron argued that he has attempted to lead his administration by those principles, such as helping the poorest and most vulnerable of people in society through tax cuts.
He also noted that he's had disagreements with many in the Anglican Communion on some of the positions he's taken up, specifically his support for gay marriage.
"I know that some disagree with those policies — including a number within the Church of England. But I would urge those individuals not to dismiss the people who proposed those policies as devoid of morality — or assume those policies are somehow amoral themselves," Cameron asserted.
Both the Church of England and the Catholic Church in the U.K. have opposed Cameron on certain issues, notably the legalization of same-sex marriage, which became law in 2014.
Cameron concluded his article by stating what he believes is the "heart of the Christian message:"
"I hope everyone can share in the belief of trying to lift people up rather than count people out. Those values and principles are not the exclusive preserve of one faith or religion. They are something I hope everyone in our country believes."
He continued: "Easter is all about remembering the importance of change, responsibility, and doing the right thing for the good of our children. And today, that message matters more than ever."
Teahan argued that Cameron's article is an attempt to "woo Christians" ahead of the U.K. general elections, which are scheduled for May 7.
She said that despite the wording in his article, Cameron is "scared of proclaiming his Christianity."
The associate editor of the Catholic Herald criticized his presentation of the Christian message and Easter, adding: "What's ironic here is that the prime minister, through trying to convey he is not afraid to call himself Christian, has actually communicated that he seems terrified to identify as one. The prime minister is entitled to hold whatever religious beliefs he wants and should stand by them rather than cynically trying to woo the Christian vote ahead of May 7."