British Woman Claims She Had Sex With 20 Ghosts, Now Engaged to Poltergeist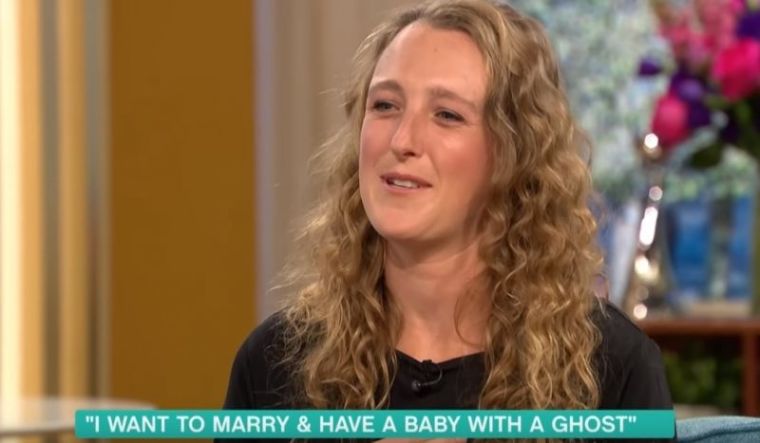 A British woman is claiming that she's had sex with 20 ghosts and is now engaged to a spirit and hopes to have a phantom baby with "him."
Amethyst Realm, a spiritual guide who channels spirits, said in an interview with ITV's "This Morning" that she refers to her new ghost fiancé as him and this unnamed spiritual presence in her life is "very ancient" and "very wise" and "very kind."
But their conversations are more about "emotion, feeling, and connection" and do not involve the exchange of many words. Interactions between them have been "tense" at times but the two have never had a falling out.
Realm, 30, explained that she cheated on her boyfriend and subsequently had sexual encounters with 20 other spirits.
But one particular ghost proposed marriage during a trip to mark their nine-month relationship at England's Wookey Hole caves.
"There was no going down on one knee — he doesn't have knees. But for the first time, I heard him speak," she said in a recent interview with The Sun.
"I could actually hear his voice and it was beautiful. Deep, sexy and real."
The Bristol-based channeler encountered this spirit while in Australia on a work trip earlier this year.
"I'd not had a phantom fling for a while and as I was away on business, starting a new relationship was the last thing on my mind," she said.
"Then one day, while I was walking through the bush, enjoying nature, I suddenly felt this incredible energy. A new lover had arrived."
Realm says she had sex with the poltergeist on the flight back to England from Australia. Sexual relations with ghosts is called spectrophilia.
With the support of her friends, a pagan wedding ceremony is now being planned.
"We haven't discussed the details yet but I think it will be quite a big do," she said.
Realm says that this engagement is more satisfying than with her last fiancé, who is a human being. She also desires to have children together, and believes "phantom pregnancies" are real. Women who have so-called phantom pregnancies, she said, "don't manage to carry them to full term because they don't understand that it's possible or can't comprehend it," she added, but she hopes to be the exception. When pressed, Realm said she doesn't know if she would be able to deliver an actual physical baby.