'Brooklyn Nine-Nine' on NBC: Season 6 Plans Now Underway; Celebs Who Advocated for Show's Renewal to Have Guest-Starring Roles?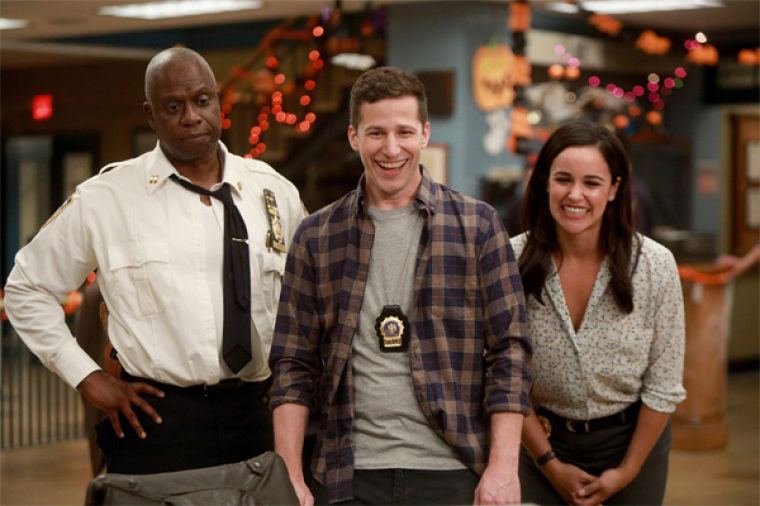 The cast and crew of "Brooklyn Nine-Nine," as well as the fans, went through an emotional roller coaster last week after Fox decided to pull the plug on the show only for NBC to swoop in a day later.
Following Fox's announcement that the fifth season of the show will be its last, there was a torrent of support from the fan base including celebrities who not only expressed frustration over the cancellation but also advocated for its resurrection.
Stars like Lin Manuel-Miranda, Mark Hamill, Guillermo Del Toro, and Sean Astin took to social media to send love to "Brooklyn Nine-Nine." The cast and crew believe that their efforts helped the show stay afloat for at least one more season.
Cast member Andy Samberg feels like they should have these people on the show as a way to thank them. "We've had such a nice upswelling of support after the show was cancelled," Samberg told E! during the NBCUniversal Upfront presentation.
"A lot of people went to bat for us like Lin-Manuel Miranda, Mark Hamill, Sean Astin. We're thinking all of them probably are owed guest spots," he went on to say.
From the looks of it, this may not be too far-fetched. For one, Miranda is already hanging out with the cast, sharing selfies with them on Twitter, which means it might not be hard for them to get together again to film a "Brooklyn Nine-Nine" episode for season 6.
Hamill, on the other hand, is one who has done some guest-starring on sitcoms as well, recently making an appearance on "The Big Bang Theory."
As for Del Toro, "Brooklyn Nine-Nine" co-creator and showrunner Dan Goor told Vulture that it would be great if he could helm an episode of season 6. He also suggested an idea to have Miranda play Amy's (Melissa Fumero) brother.
In the same interview, Goor talked about the whirlwind of emotions he and the cast and crew experienced after the show was canceled. He admitted that it shattered their hearts to learn that Hulu declined to acquire the series because they thought the streamer was their last chance.
It was ultimately NBC that gave "Brooklyn Nine-Nine" a second life, the same network that passed on it when it was still being developed.
Goor recalled how NBC Entertainment chairman Bob Greenblatt would always tell him how he would love to have "Brooklyn Nine-Nine" on the network every time they happen upon each other in the last five years. "So, I shouldn't have been surprised," Goor said.
"And then at 8:00 p.m. we got the call that NBC was going to pick us up, which was unbelievable. I just rejoiced, and Andy and I were just texting each other, so ecstatic. They told us they wanted us all to tweet about it at 9 p.m. and we did. It was a very, very happy moment," he recalled.
Goor said that while everyone around him seems to have resigned to the idea that "Brooklyn Nine-Nine" is ending, he said that he had a bit of hope inside him. In turn, he never really got to process the cancellation as much as the others did.
As for the next season of "Brooklyn Nine-Nine," which will have 13 episodes, Goor said that "there's a bunch of stuff I really want to do" including doubling down on things that they did in past seasons in the same vein as the popular episode, "The Box."