Calif. Residents Surprised as 'End of the World' Message Interrupts TV Programming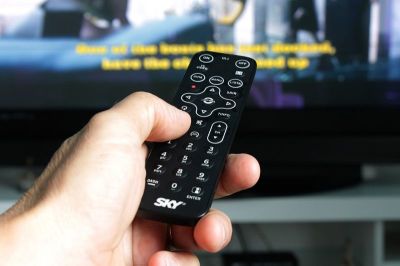 A number of Orange County, California, residents said that they were surprised when television programming on Thursday was interrupted by what seemed like an "end of the world" message.
One resident, Stacy Laflamme, shared with the Orange County Register that an emergency alert flashed across her screen Thursday morning as she was watching the HGTV channel via Cox Communications.
"Realize this, extremely violent times will come," a man's voice stated in the alert.
Laflamme said she was alarmed and compared the voice to "Hitler talking." She said that it sounded like a "radio broadcast coming through the television."
Erin Mireles of Diamond Bar said that the Bravo channel on Spectrum's cable system was also interrupted by the alert.
"I was definitely startled, 'cause the volume increased exponentially," Mireles described. "I wasn't alarmed in the sense of thinking something was wrong, 'cause I assumed it was some sort of hack. My channel changed back to Bravo after a couple minutes."
CBS Los Angeles added that many residents took to social media to discuss what some found to be an "end of the world" prediction, with one woman stating that the man's voice, which is yet to be identified, spoke about the second coming of Jesus Christ.
A spokesperson at Cox said the alert was likely the work of a hacker.
"The radio station that sent the alert didn't turn off their programming when the alert ended. For a short time, some heard programming that was on the radio," a statement read.
Dennis Johnson, a spokesman for Spectrum, said the station "confirmed that we were fed an incorrect audio file."
The OC Register noted that it is not yet clear whether the alert has anything to do with a prediction that the world is going to end on Saturday, as suggested by David Meade, a self-described "specialist in research and investigations."
Meade has been stirring discussion with his interpretation of Luke 21:25 in the Bible, along with the recent solar eclipse over the U.S. and Hurricane Harvey, predicting that catastrophic events may occur on Saturday.
Floyd Elmore, professor of biblical theology at Southern Evangelical Seminary in Matthews, North Carolina, dismissed such thinking, however, and told The Christian Post earlier this week that it hails from a fringe wing of Christianity.
In Mark 13, "the Lord gave general signs of the whole age," Elmore said, "and He says 'Don't let anyone lead you astray, they'll hear of wars and rumors of wars, don't be alarmed, this must take place but the end is not yet."
Wallace Henley, associate pastor of Second Baptist Church in Houston, Texas, further told CP that some who make end of days predictions do not understand how time works in Scripture.
In the Bible, "time is not cyclical, as many far Eastern religions say, but neither is it strictly linear as Western reductionism says," Henley said. "It is linear-cyclical."