Calif. Zoo Removes Ten Commandments From Property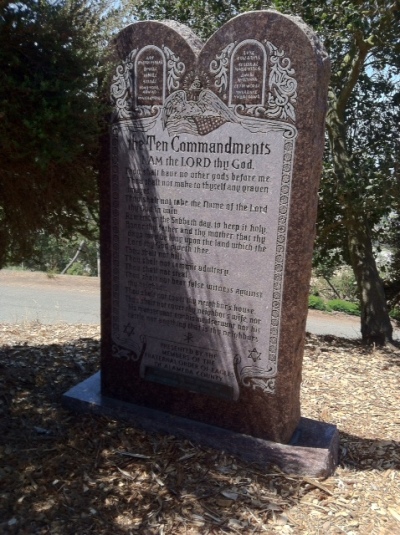 A Calif. zoo has permanently removed a decades-old Ten Commandments display from a park it owned before a couple of atheist organizations could perform a scheduled protest.
Oakland Zoo officials removed the Decalogue on Wednesday from Knowland Park, a 500-acre piece of land for which the zoo occupies 45 acres.
Dr. Joel Parrott, president and CEO of the Oakland Zoo, told The Christian Post that it was done in response to church and state concerns voiced by the community.
"We removed the plaque because of the controversy in Georgia several years ago regarding a similar religious plaque in public space," said Parrott. "We have a very diverse community, and we need to respect that diversity. This is a public space, owned by the city of Oakland."
According to Parrott, the Ten Commandments display in Knowland Park was placed on the property in the 1960s, while the property was overseen by the California State Park system.
The removal of the Ten Commandments display came a few days before a planned protest of the Decalogue by local atheist organizations.
According to the Oakland Tribune, the East Bay Atheists and Atheists Advocates of San Francisco were going to stage a protest against the Decalogue display on Sunday. Instead, the two organizations plan to thank Oakland Zoo for their decision to permanently remove the display.
Displays of the Ten Commandments on public property have been a hot button issue for years, with major cases occurring throughout the 2000s in Alabama, Georgia, Utah, and elsewhere.
Last month, a Virginia high school reached a settlement in which it removed a copy of the Ten Commandments from a display of several historical documents.
Narrows High School of Giles County would replace the framed copy of the Decalogue with the copy of a textbook page which talked about the influences on the American democratic system. Titled "The Roots of Democracy," the textbook page nevertheless features an illustration of the Ten Commandments and talks of the Judeo-Christian influences on American democracy.
Parrott told CP that while Oakland Zoo is removing the display, officials there do not believe that it is illegal to have a display of the Ten Commandments on public property.
"Legal challenges have determined in court that it is neither illegal nor unconstitutional to have this type of display on public property. We accept that legal opinion," said Parrott. "We are sensitive to public perceptions of our community regarding the separation of church and state, which resulted in the removal of the plaque."
According to Parrott, there has been no decision made as to where they will donate the Decalogue display.
The Ten Commandments