Carrie Underwood: 'Happiness Comes Through' In Faith-Based Hit 'Something in the Water'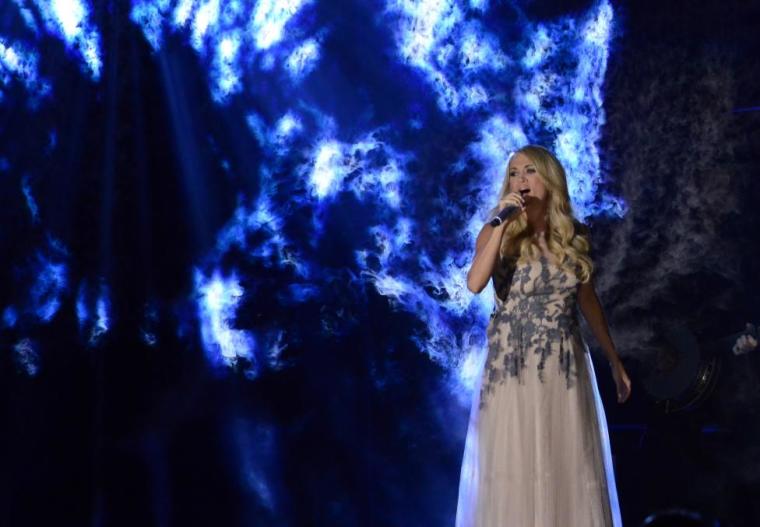 Carrie Underwood shared an explanation for the runaway success of her latest single "Something in the Water" recently, citing the track's feel-good lyrics.
Released in October, "Something in the Water" has risen to the top of the song charts where it remains perched at No. 1 even today. Underwood said that the song, which heavily incorporates Christian themes of conversion, baptism and keeping the faith, attracts listeners with its "good vibes."
"I think people just enjoy the happiness that comes through," the singer told Country Music Television. "I think people just enjoy having good vibes comin' at 'em."
Most recently, "Something in the Water" has earned Underwood a Grammy Award nomination for Best Country Solo Performance. The song, which includes lyrics such as, "I followed that preacher down to the river and now I am changed, and now I'm stronger," is part of Underwood's greatest hits album. The album, "Greatest Hits #1" is the singer's first release since 2012's "Blown Away."
In the past, Underwood has described "Something in the Water" as a "joyous, uplifting song, basically about changing your life for the better," according to Taste of Country.
"[It's about] kind of having that a-ha moment, to waking up and your life being different from that moment forward," Underwood added.
Lyrics to "Something in the Water" also include, "Couldn't fight back the tears so I fell on my knees / Saying, 'God if you're there come and rescue me.' Felt love pouring down from above / got washed in the water, washed in the blood and now I'm changed / Now I'm stronger." Adding to its religious theme, the powerful ballad ends with an interpolation of "Amazing Grace" before Underwood belts out a portion of the hymn.
Watch the video for "Something in the Water" here.