China Communist Party Forced Jailed Church Leader to Write Letter Urging Christians to Support Gov't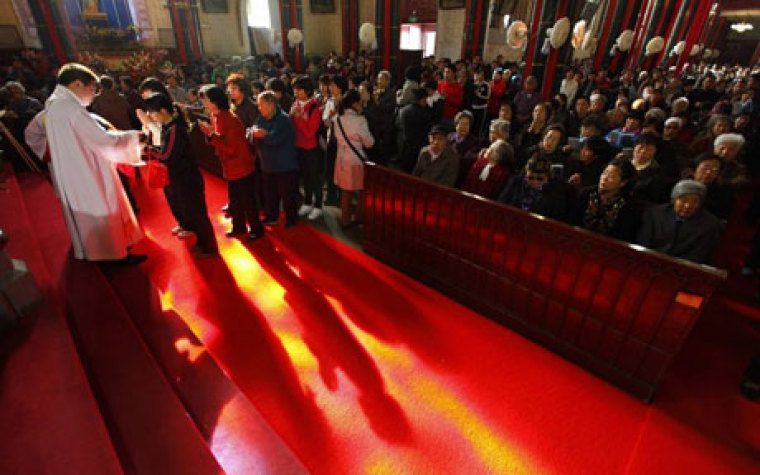 Pastor Gu Yuese, the imprisoned leader of the largest government-sanctioned church in China who stood up to the ongoing crackdown on churches, wrote a letter to his congregation urging compliance.
China Aid, a Christian human rights organization based in the U.S., said, however, that some suspect Gu might have been forced by government authorities to write the letter.
While the Communist Party detained and in February charged the pastor with embezzling near U.S. $1.6 million in funds, persecution watchdog groups have said that the arrest has more to do with Gu standing up against the government's crackdown of churches, including the forced removal of rooftop crosses.
The letter sent by Gu to Hangzhou's Chongyi Church congregation in the form of a Chinese New Year's greeting calls on them to support the new senior pastor appointed by the government to replace him, and also asks Christians to pray, rather than to coordinate protests or inquire after the situation.
"Some have said that they believe Gu was forced to write the letter," China Aid noted.
A translation of the message Gu sent to his followers reads:
"Brothers and sisters, please support Pastor Zhang Zhongcheng's work the same way you supported me. I believe that God can bless Pastor Zhang Zhongcheng by improving upon Chongyi Church, which is the Lord's church! May God be glorified and people profit!"
The letter adds: "I am doing well in here, enjoying the company of God and bathing in his blessings. I am tired, but, in here, I have more time to pray for you and for the guidance of God in the years to come."
The jailed pastor also seemingly states that the investigation is for his "own benefit."
"Please have faith in our government and judicial department. They will do their work rigorously, abiding by the laws and unearthing the truth with impartiality, justice, and public transparency," the letter says.
"They will correct any mistakes, if any have been made, and guard against them if none were committed. Instead of assembling and inquiring, please pray!"
The rise of the number of Christians in China, who now outnumber the members of the Communist Party, have prompted the cross removals and crackdown of churches, China Aid founder Bob Fu told The Christian Post last week in an interview.
Fu also told CP that he expects the pastor to be indicted. He pointed out that Gu is the highest ranking government-sanctioned church official to be arrested since the cultural revolution in the 1960s, making the case highly significant.
"It will shake the spirit of the government-sanctioned church leaders and the congregations throughout China. All these factors will have a ripple effect," Fu predicted.
Hundreds of other underground church leaders, congregants, and human rights activists were arrested throughout 2015 as part of the crackdown.