Christian Leaders Meet in NY to Support Israel; Say Hamas Conflict Is a 'Defining Issue of Our Time'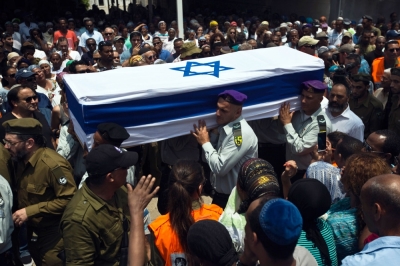 Dozens of Christian faith leaders from the greater New York area united at the Faith Exchange in New York City on Friday to express their support for Israel in its current conflict with the Palestinian Hamas group. Israel and Hamas are currently involved in a violent and ongoing clash that one religious leader attending Friday's event described as one of the "defining issues of our time."
Thirty-two Christian leaders joined media and Ambassador Ido Aharoni, consul general of Israel in New York, to discuss the importance of supporting Israel during this time of conflict and violence. Dr. Paul de Vries, president of the New York Divinity School, organized Friday's press conference.
De Vries told The Christian Post that several important topics were discussed among the ministers, including what they believe to be a clear distinction of good versus evil between Israel and Hamas in the way they treat their own citizens.
"The media tries to paint this as two forces that we have to bring together and try to resolve their differences. One is terroristic and the other supports the core biblical values of life, liberty and justice. There really is no problem choosing sides between Hamas and Israel," de Vries told The Christian Post. "The Palestinian people are the ones we love, along with the people of Israel, but the abuse by the tyrannical leaders of the Palestinians is just incalculable."
An example that Dr. de Vries mentioned was the heavy investment Hamas has made in dozens of very long cement-reinforced tunnels used to attack Israelis, but yet the group has failed to build bomb shelters for Palestinian civilians.
De Vries went on to argue that it is in the U.S.'s best security interest to support Israel, saying: "Hamas is terrorizing its own people and the people of Israel, and if they had a chance, they'd terrorize America, too."
While "in Israel the basic human rights are respected, right to life, right to freedom of religion," de Vries argues that "Hamas embodies a mentality of death and is against liberty, against the lives of their own people, and against freedom of religion."
Two of the pastors at the press conference have ministered in Gaza, and they talked firsthand about the torture, abuse and murder of Palestinian Christian ministers and leaders whom they have known. "The only country in the Middle East where there is freedom of religion is Israel," these ministers said clearly.
The Rev. Robert Stearns, executive director of Eagles' Wings ministry, also attended Friday's news conference and told CP that he believes the current Israeli/Hamas conflict is one of the "defining issues of our time."
Stearns said it was important to call together different streams of Christian faith leaders in the tri-state area to show that this conflict is not just an issue important to Jews or evangelicals, but rather it is a human rights offense that must be addressed by all "decent human beings."
"I think that sometimes it can be perceived that Israel is just a Jewish issue or that Israel is just an issue for evangelicals who have a certain theological construct, but the reality is any decent human being that cares about basic human rights should be speaking about the atrocities of Hamas. Hamas is a violent terrorist organization and they are an absolute detriment to security."
Stearns went on to say that he believes the Israelis have previously offered a "just and equitable" solution to their conflict with Hamas, and unfortunately, Hamas has refused to accept such compromises.
"If Hamas was neutralized and the Palestinian people put down their arms tomorrow there could be a Palestinian state of peace and security in the area," Stearns said, adding however that if "If Israel put down their arms, there would be no Israel. That's the reality."
Tensions have flared between Israel and Hamas in recent weeks, with both sides exchanging missile fire since last month. In the past 18 days of conflict, the Gaza Strip's death toll has risen to 850, the majority of the victims being civilians, while Israel's death toll is at 35 army casualties and two civilian casualties.
The United Nations Human Rights Council announced this week that it would be conducting an independent investigation into possible war crimes committed in the Occupied Palestinian Territory, including East Jerusalem. The U.N. released a statement saying it would be investigating the "widespread, systematic and gross violations of international human rights and fundamental freedoms" that have occurred in Palestine.
President Barack Obama also told Israeli Prime Minister Benjamin Netanyahu earlier this week that although the country has every right to defend itself against Hamas attacks, he was "deeply concerned" about the rising civilian death toll on the Gaza Strip.
Those supporting Israel in the conflict argue that Hamas members take advantage of Palestinian citizens by launching missiles near schools and hospitals without warning, or fail to offer shelter to their citizens from missile fire and other attacks. Israeli Ambassador to the U.S. Ron Dermer said this week that the "Israeli Defense Forces should be given the Nobel Peace Prize […] the Nobel Peace Prize for fighting with unimaginable restraint."
U.S. Secretary of State John Kerry is reportedly pushing to announce a cease-fire agreement between the two areas by the end of Friday. A senior Israeli official told Haaretz that the country's security cabinet had rejected a temporary cease-fire agreement proposed by Kerry earlier in the day, saying it leaned too far in favor of Hamas. The security council indicated that it was still open to diplomatic efforts to reach an agreeable cease-fire proposal.