Church Kicked Out of Building for Sign Message: 'LGBTQ Is a Hate Crime Against God, Repent'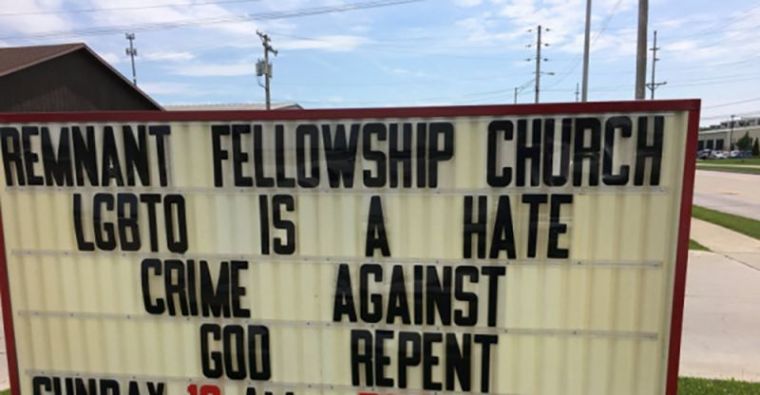 A church in Indiana has been evicted from its building for placing a sign outside that read, "LGBTQ is a hate crime against God."
Remnant Fellowship Church in Auburn put up the sign on June 27.
A church member confirmed to ABC-affiliate WPTA21 that they had been forced out of the building, and wane.com quoted an Auburn resident, Tammy Kessler, as saying, "I just wanted to come and look and check the sign out and they were gone. The sign and everything."
A local resident had called for a protest outside the church last Sunday.
"It is beyond a doubt that some of us have strong feelings about this church/sign and these beliefs," the resident, Kristin Russell, wrote on Facebook. "I want everyone who comes to come with open arms and open minds. No hate allowed. Positive, progressive, and loving signs are welcome and encouraged. Bring friends and family. Overall, I would just like the message of loving everyone despite differences to get across. Please please do not bring any negativity with you, and let's just show this church that Auburn stands with the LGBTQ+ community, and that God and churches can as well! I appreciate the support!"
The church was founded in April with the mission to "stand apart from the last days apostate church and stand for biblical truth and faithfulness to God and His Word."
In a statement posted to Facebook last week, Remnant Fellowship offered no apologies to those who were offended by the display, which some deem as being "anti-LGBT."
"Put this on church sign to reach a wicked and filthy generation. I pray God grant some repentance and life before the great Judgements about to be poured on this nation. Especially the young people who have been sold lies so long and are [fed] a flood of filth every day," the church's Facebook post read. "Jesus can save the vilest of sinners, many of us were saved out of wicked lives. Nothing is to[o] hard for God."
The church's Facebook post continued by citing 1 Corinthians 6 and stating that "wrongdoers will not inherit the Kingdom of God."
"Do not be deceived: Neither the sexually immoral nor idolaters nor adulterers nor men who have sex with men nor thieves nor the greedy nor drunkards nor slanderers nor swindlers will inherit the Kingdom of God," the post continued. "And that is what some of you were. But you were washed, you were sanctified, you were justified in the name of the Lord Jesus Christ and by the Spirit of our God."
It appears that the church has either deleted its Facebook page or its account has been blocked.