Church Members Weep, Pray Around 10-Foot Cross Removed by Police in China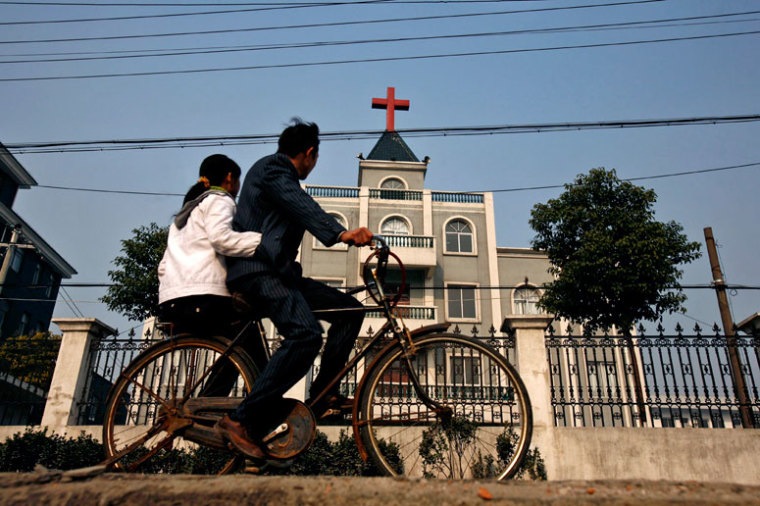 Chinese police in the city of Wenzhou have removed a cross from a local church in their most recent crackdown on Christianity in the Asian country, specifically in the Zhejiang province. Media outlets report that local church members gathered around their fallen cross, weeping and praying.
Although congregants attempted to protect their church, hundreds of police arrived at the Longgang Huai En Church in Wenzhou on Monday and removed the 10-foot-tall red cross from the church's steeple. Wenzhou is considered to be "China's Jerusalem" due to its large Christian population.
According to the Associated Press, about 200 congregants attempted to protect the cross from being removed, but ultimately allowed the police to take down the religious symbol using a crane. Police officials have said the cross violated a city ordinance regarding the height of buildings in Wenzhou. The cross was returned to congregants, who reportedly wept and prayed around their destroyed religious image.
This most recent police action is reportedly one of the many attempts to subdue Christianity in China, especially in the city of Wenzhou where the Christian population is rapidly growing. Last week, congregants of the local ShuiTou Salvation Church, also located in Wenzhou, said they'd rather die than have their cross removed. The congregants have held a month-long vigil at the church, forming a human blockade when police approach and attempt to remove the cross.
One church member told International Christian Concern (ICC) that he and other congregants "will continue to guard our church cross to the end."
"We divide people into two groups and take turns to guard the church through the night."
Local officials have reportedly told ICC that they are competing to see who can remove the most church crosses in the region in an attempt to boost their own political careers.
According to the Associated Press, authorities in the Zhejiang province, where Wenzhou is located, have successfully removed or threatened to remove 130 crosses at local churches. Congregants at another church, Wuxi Christian Church, have also vowed to protect their cross from demolition. The cross was once removed by government officials, but a local congregant used his welding equipment to reattach the cross.
"I won't let them take down the cross even if it means they would shoot me dead," one congregant, 73-year-old Fan Liang'an, told the Associated Press. Fan built the church with his grandfather back in the 1970's.
Despite the argument that the Chinese government is directing targeting Christians, government officials continue to insist that they are simply enforcing strict city ordinances regarding building height, pointing to the numerous non-religious structures that they have also demolished for being too tall.