Church of Scotland to Allow Gay Marriage?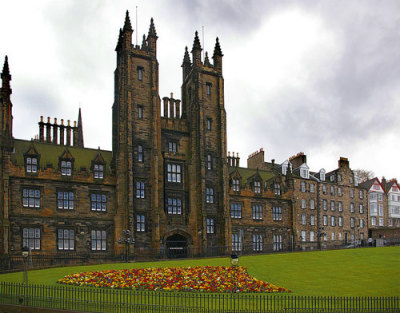 A leader of the Church of Scotland, who convenes the church's Theological Forum, told the General Assembly there is no theological reason to oppose same-sex marriages in the Church, as he presented a report that proposes the governing body approve a detailed study of how such ceremonies could be allowed.
"We see this as permissive rather than directive," the Very Rev. Iain Torrance told the assembly, according to BBC. "We say that after reflection we can see no sufficient theological reason for the Church now not to authorize specific ministers to officiate at same-sex weddings, if doing so does not prejudice the position of those who decline to do so for reasons of conscience."
Torrance added, "I hope, I pray, we are moving to a different stage in this long argument. We can begin perhaps by saying gently to those with whom we have disagreed, I am sorry. That notion of an apology is directly linked to taking this into a non-binary stage and trying to think these pieces differently with a different perception."
 There was no opposition from the assembly to the proposed apology, according to The Guardian.
The report says that individual ministers and deacons who do not want to conduct gay marriages due to their conscience must not be forced to do so.
To deal with the opposition, the report also states, "For example, we do not believe that extension of marriage to two persons of the same gender opens the door to a rights-based argument that marriage should be extended to polyamorous unions. Nor, for example, do we think the door should be open to marriage with robots. Consent within a covenanted relationship between two persons remains at the heart of our understanding."
The Rev. Dale London, a minister who is opposed to the idea of allowing same-sex marriage in the Church, was quoted as saying that homosexual activity is "contrary to the Word of God … it is sinful. … We cannot call good what God has called evil."
The latest Church census in Scotland showed that the number of regular churchgoing Christians in the country has fallen to 390,000, representing 7.2 percent of Scotland's population, down from 854,000 (17 percent of population) in 1984.
The statistics came from the 2016 Scottish Church Census, according to BBC. The study also showed that 42 percent of the churchgoers were aged over 65, and that the number of congregations dropped from 4,100 in 1984 to 3,700 in 2016.
Lead researcher Peter Brierley said the figures indicated that Scotland faces a crisis in Christianity. "We are living in the 21st century and one of the features of the 21st century is that people's allegiance to particular faiths is no longer as strong as it used to be," he said. "There are also quite a lot of invisible Christians who used to go to church, still believe in God, but they have moved house, perhaps to a rural area, and simply haven't found a church to go to."
In January, an Episcopal Cathedral in Glasgow stirred controversy after it allowed the reading of a verse from the Quran that states that Jesus Christ is not God's Son during a church service.
St. Mary's Episcopal Cathedral provost, the Very Rev. Kelvin Holdsworth, at the time defended the service, saying that it was aimed at fostering relationships between Christians and Muslims. However, some church leaders criticized the Quran reading inside a church, calling it "ill-advised."