Ciara Criticized for Wearing Revealing Dress to Sing National Anthem at College Playoffs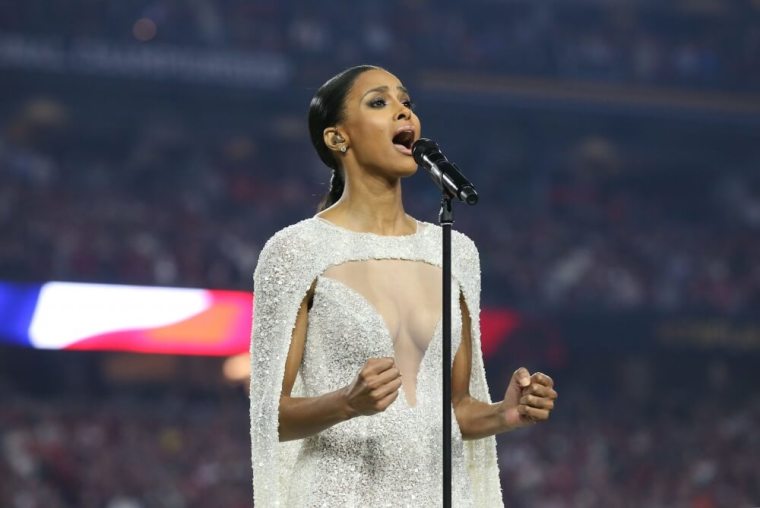 Christian R&B performer Ciara has received much criticism for wearing "too revealing" of a dress when she sang the national anthem at the College Football Playoffs National Championship game in Glendale, Arizona, on Monday.
The singer, who is dating Seattle Seahawks quarterback and outspoken Christian Russell Wilson, took the stage on the 50-yard line of Monday's game wearing a floor-length white gown with a matching white cape.
Although the majority of social media users appeared to have no issue with Ciara's dress, two former ESPN reporters tweeted that the singer revealed too much cleavage, given that children would be watching the final game, Clemson University vs. University of Alabama.
"Dear Ciara. You're stunning. But this is a National Championship Game. Kids are watching. Cover up," former ESPN reporter Bonnie Bernstein tweeted on Monday evening.
Bernstein then sought to defend her comments when some on the social media platform accused her of criticizing Ciara due to her race.
"Truly am amazed at how people take a tweet (that includes a compliment!) & wanna make it about race. Seriously. Grow up. Watch the game," Bernstein added in a follow-up tweet.
Bernstein was supported by fellow former ESPN reporter Jason Whitlock, who chimed in: "Appropriate, fair tweet. The dress was inappropriate. Her voice was more than enough. Why distract w/nudity?"
Despite facing criticism from some, Ciara received support from Wilson, who tweeted a photo of the singer at the event with the caption: "I see you baby! Sounded amazing & looked flawless in every way!"
While Ciara has not addressed Bernstein's comments, she did share a photo of herself from the event on Twitter with the caption: "Truly Grateful For This Moment, and To Be A Part Of A Special Night."
Ciara and Wilson have previously been outspoken about their Christian faith and their desire to remain abstinent until marriage.
The R&B singer previously told Access Hollywood Live that the couple's abstinence promise is "until the deal is sealed. Absolutely!"
"I think both of us look at each other and we're like — whooo! But we take it one day at a time and keep it going with each other and I'm really enjoying every day that we're sharing," Ciara added in the August 2015 interview.
Wilson has also spoken out on the couple's commitment, telling Pastor Miles McPherson of the Rock Church in San Diego, California, that the couple made their promise while Ciara was on tour.
"I said to her, and she completely agreed ... can we love each other without that? If you can really love somebody without that, then you can really love somebody," Wilson told the megachurch pastor in a July 2015 sit-down discussion.
The Seattle Seahawks quarterback added that although he and Ciara plan to follow through with their commitment, they do face temptation.
"I ain't gonna lie to y'all now," he told the audience sitting in on his talk with McPherson. "I need y'all to pray for us, 'cause I know y'all seen her on the screen now ... if there's a 10, she's a 15."