Conservative group backs 150 school board candidates who oppose 'woke' ideology in classrooms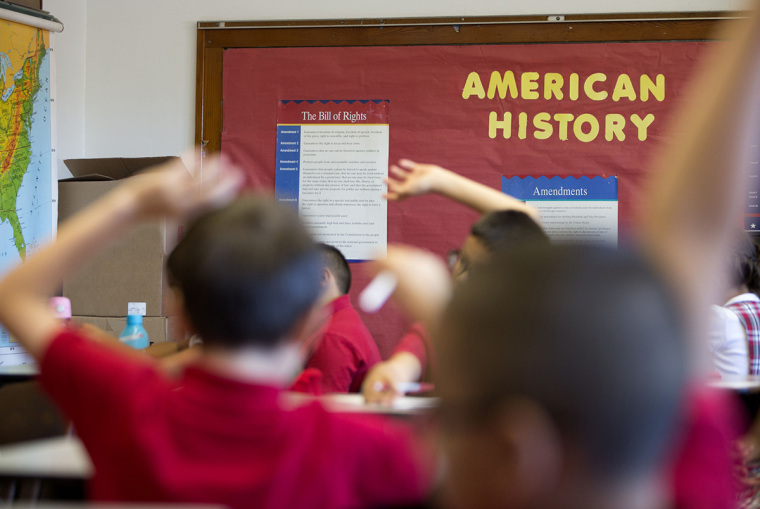 An advocacy group that supports school board candidates opposed to the implementation of critical race theory and other "woke" ideologies in public school curricula has endorsed over 150 school board hopefuls as the push to reform American public education continues. 
The 1776 Project PAC, which describes itself as "a political action committee dedicated to electing school board members nationwide who want to reform our public education system by promoting patriotism and pride in American history" and "committed to abolishing critical race theory and 'The 1619 Project' from the public school curriculum," announced Tuesday it was "campaigning for over 150 school board candidates."
1776 Project PAC founder Ryan Girdusky described November's elections as "our biggest effort ever." 
This November, @1776ProjectPac will be campaigning for over 150 school board candidates.

Our biggest effort ever. https://t.co/MQNPFwfG03

— Ryan James Girdusky (@RyanGirdusky) August 22, 2023
Most recently, 1776 Project PAC announced a series of endorsements for candidates running in Pennsylvania, Ohio and Kansas. The organization is supporting five candidates in their bids to join the Perkiomen Valley School District Board of Education in Pennsylvania: Heidi Brown, Jordan Cohen, Matthew Dorr, Russ Larson and Kim Mares. 
????NEW: We have another round of endorsements to announce for this November's school board elections in Pennsylvania, Kansas, and Ohio.

On November 7, parents' rights are on the ballot in all of these states.

Our PAC is going to work hard to ensure they win. pic.twitter.com/B1ZZsIFCDP

— 1776 Project PAC (@1776ProjectPac) August 22, 2023
Meanwhile, the 1776 Project PAC has also endorsed Richard Faagutu, Trisha Hamilton, Michael Hueber and Christine Vasquez for seats on the Blue Valley School District Board of Education in Kansas. Additional candidates supported by 1776 Project PAC include Bryan Cawvey and Kirsten Workman, who are seeking spots on the Kansas-based USD 469 Lansing School Board. 
Four 1776 Project PAC-supported candidates are running for office in Chanute Public Schools in Kansas: Owen Higgins, Cody Howell, Samuel Smeed and Derek Waggoner. The group has endorsed Buck Bradley, Michael Kennedy and Ken Snyder for seats on the Baldwin City School Board in Kansas.
Candidates endorsed by the 1776 Project PAC running for school board seats across Ohio include Mirona Florian and Mike Telep in the North Royalton School District, Jeff Johansen and Beverly Jones in Strongsville City Schools, Denise D'Angelo Steele and Julie Liskany in South-Western City School District, Jeremy Cox in the Xenia School District, Christine Colliver and Nancy Slattery in the Northwest Local School District, Rose Iapollo and Gil Martello of Mentor Exempted Village School District and Scott Taylor in the Miamisburg School District. 
1776 Project PAC also previously awarded endorsements for this election cycle in Virginia: Dora Purvis and Chris Daniels of Bedford County; Charletta Barringer Brown of Chesterfield County; Brittany Gray and Danny Reed of Fluvanna County; Mark Miear of Montgomery County; Vicki Hurt and Michele Ward of Powhatan County; Shelley Clemmons of Roanoke County; Gloria Carlineo and Michael Rickard of Shenandoah County; Chris Harris and Kirk Twigg of Spotsylvania County; and Jason Maresh and Brandi Perkins of Isle of Wright County. 
????NEW: Virginia was ground zero for the fight against radical left-wing school boards.

Our PAC is here to ensure they get replaced with members that respect parental rights.

Here is our full slate of endorsed candidates in Virginia's school board elections this November. pic.twitter.com/J82oSlibgb

— 1776 Project PAC (@1776ProjectPac) August 3, 2023
The group has also endorsed multiple candidates in Loudoun County, Virginia: Chris Hodges, Amy Riccardi, Joseph Smith and Lauren Shernoff. It is supporting Lucy Meredith Moses, Karen Wirsing, Angela Allen, Ellen Robinson and Michelle Levin Maxwell in school board races in Goochland County, Virginia, while getting behind candidates Gregory Reimer, Heather Mae Donbronsky, Ron Vaught and Helena Cunha in New Kent County.
1776 Project PAC's previously endorsed candidates in Pennsylvania include: Wendy Kratz and Jessica Skelton in Boyertown School District; Georgeanna Singley and Dolores Wiker in Oxford Area School District; John Hamme and Brandy Shope in West York School District, and Jackie Smirino in Avon Grove School District. The group is supporting five candidates seeking school board seats in the Upper Perkiomen School District: Sarah Bieber, Elizabeth Fluckey, John Gehman, Michael Long and Trina Schaarschmidt. 
????NEW: We are excited to announce a full slate of endorsed candidates for November's school board elections in the state of Pennsylvania.

2023 is going to be a big year in the fight against CRT and for parental rights.

Get out and vote Nov. 7 for sanity in your school boards???? pic.twitter.com/3BygV6StCp

— 1776 Project PAC (@1776ProjectPac) July 24, 2023
In races for the Dallastown School District, the 1776 Project PAC is supporting Dina Aubel, Jonathan Baldwin, Karl Dotterweich and Eric Pierce. The group has endorsed David Brinton, Brenda L. Cox, Mandy Davis and Heidi Thomas to serve on the West Shore School District's Board of Education, while supporting Bill Hall, Jeremy Hash, Jen Henkel, Nathan Henkel and Joseph Wilson to serve on the Southern York County School District Board of Education. 
The 1776 Project PAC has lined up behind Katy Bauer, Christianne Brennan, Keith Gelsinger, Justin Lightly and Matt Smith for races taking place in the South Western School District, while backing Troy Engel, Marc Greenly, Carol McGinn and Carolyn Sendora for seats on the Red Lion School District Board of Education. David Hansen, Ryan McShane, Heather Musik and Robert Snyder are the group's preferred candidates in the South Eastern School District. 
In the Northeastern School District, 1776 Project PAC is supporting school board candidates Travis Coeyman, Mike Eriksen, Mark Jackson, Sara Keefer and Chris Leathery. It has gotten behind David Conley, Allen Hogan, Craig Kindig, Rob McKinney and Karen Miller for school board races in the Dover School District. 
The group has had varying success rates in electing "un-woke" candidates to school boards as part of a nationwide pushback against the embrace of critical race theory, LGBT ideology and sexually explicit material in public schools that often sees parents and community members clashing with their school boards. Shortly after its launch in 2021, the group saw the overwhelming majority of its preferred candidates win school board seats in that year's general election. 
Last spring, the group's preferred candidates performed very well in races that took place in metropolitan areas of Texas. Last summer, its candidates helped flip five Florida school boards from majority liberal to majority conservative. After achieving a success rate of slightly less than 50% in school board races that took place in last November's general election, the group saw more than two dozen of its preferred candidates win elections in the Midwest earlier this year as it secured a similar success rate.