Country Singer Releases Music Video to Powerful Song 'Billy Graham's Bible'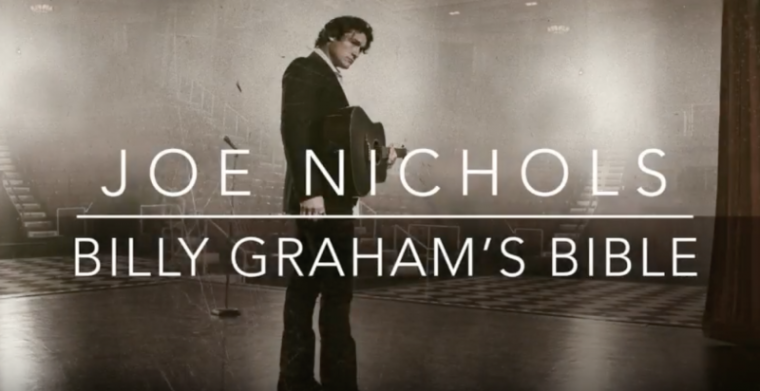 After the passing of renowned evangelist Billy Graham, country singer Joe Nichols decided to release a powerful lyric video for his song, "Billy Graham's Bible."
Nichols actually recorded the track in 2012 and it was featured on his 2013 album Crickets. However, he thought he needed to bring the song back for a broader audience on his latest album, Never Gets Old.
"Sometimes you've gotta swing for the fence," Nichols told Taste of Country of his choice to put out the song twice. "I'd rather swing and miss, swinging for the fences, than try to bunt a single down the line."
The song describes the great value of Graham's Bible since it was the tool he used to lead countless people to Christ. Nichols compares himself to the book — just as Graham's Bible was put to great use, God has a plan for him also when he's in the right hands.
"'Billy Graham's Bible' was one of my favorite vocals I've ever done before," Nichols shared in a past video describing the song. "The message of the song is basically everything has its place in the world."
He believes the recent success of other "traditional" country songs in radio, from artists like Chris Stapleton, could broaden the reach of his song.
"I'm a country guy, and I think people have kinda known that for years, that I'm always a traditional country guy. And if I can squeeze in a little space on country radio with a traditional country song like this one, then I think it's a little bit bigger than me, and it gives other people that are like me maybe a little bit of hope that you can get played on the radio with a country song," he told Taste of Country.
For the tune, Nichols worked with legendary producers Tony Brown and Mickey Jack Cones. He said that it was their attention to musical detail that produced the beauty of the final result.
"I sure would like a big old hit for Tony Brown," he said. "He's done so much for me over the years, and has had such a great career. I would love for him to have a big old shiny hit."