Craig Groeschel at Catalyst: If Your Ministry Hasn't Been Called a Cult, 'You're Not Doing Squat' in the Kingdom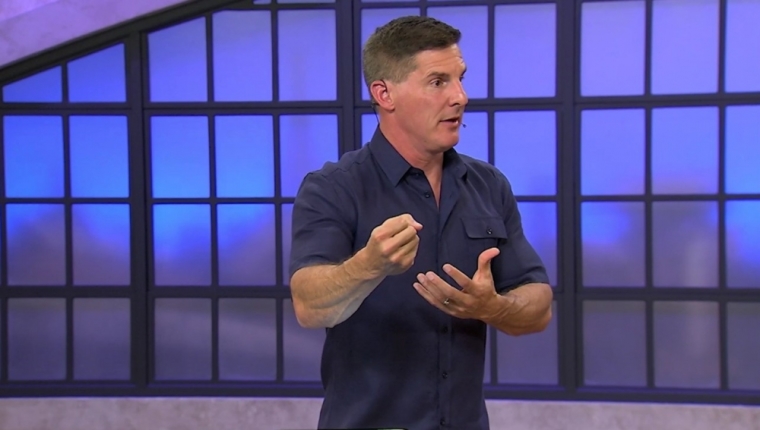 DULUTH, Georgia — If your ministry has never been called a cult, "you probably are not doing squat" in the Kingdom, said Pastor Craig Groeschel on Thursday, decrying how Christians too often take shots at each other.
Speaking before thousands at the Catalyst Atlanta conference at the Infinite Energy Arena, the pastor of Life Church in Oklahoma, which now has 25 campuses, recounted a time when a guy eager to evangelize knocked on his front door, began sharing his faith, and invited him to come to his church.
Amused by his enthusiasm, Groeschel let him go on for several minutes before telling him that he was not only a follower of Jesus but a part of Life Church. The evangelist recoiled and then looked around nervously, not knowing Groeschel was the pastor, leaned in and said: "My pastor says your pastor doesn't preach the truth."
"I wonder how much it grieves the heart of God, how often we as Jesus followers takes shots at one another," Groeschel said.
"We have a common Enemy," he continued, "but the enemy is not the church down the street, not another denomination, or a style of worship." Satan, our real foe, he added, focuses so much on destroying unity because "if we work together, if we stand united, the work of Christ through His Church it is unstoppable," Groeschel said.
Noting that Jesus prayed in John 17 for His Church to be one, and that the theme of the Catalyst conference is "Uncommon Fellowship," Groeschel outlined four things churches must do to achieve what he called "uncommon unity," drawing several stories from his own life to illustrate their importance.
1. We desperately need each other
"No matter how awesome your ministry is. You cannot do it alone," Groeschel began, adding that "unity is not uniformity." Strength exists in diversity; we are better when we are different, he said.
Having been raised in the United Methodist Church, Groeschel recounted that he never really engaged and understood the Gospel growing up and in college he admittedly enjoyed the "fun" of "a lot of sin." But upon hearing about unconventional church one evening on the radio he felt prompted to check it out. At a Saturday night gathering that was what he called a "Spirit-filled, caffeinated, shoot 'em with the Holy Ghost" service where everyone was speaking in tongues and had their hands raised in the air, he found himself at an altar responding to a call to repentance that night.
"The theology was a little different than what I believe today, the style was different than what I could ever handle, and yet God used it to light a fire inside my soul and transformed my heart ... and what it did was empowered to me to go back where I came from and bring some fire into the denomination I was raised in and to preach Christ with passion," Groeschel said.
2. We err on the side of being 'for,' not 'against'
Way too often, churches criticize the flaws in other parts of the Body, Groeschel noted, and no congregation is immune from this temptation.
"We don't always know that we're doing this," he added.
In the course of planting multiple locations of his church, he and his team set up billboard advertising their new church plant in a town in another state that read: "Think Church is boring and outdated? So did we, discover the difference."
Though we were trying to be innovative and fresh, in a veiled way, we were saying "We're not like [those old boring churches], we're against them," Groeschel said.
Life Church has successfully planted several sites in Oklahoma and in other states, but that one failed. Might it be, Groeschel suggested, that because our hearts were not in the right spot towards God's family, He did not bless it?
3. We give everything we can to strengthen others
At Groeschel's church, they have made it their core value to lead with radical generosity, he said. Whatever you have that God can use, is to be made available for the whole family of God and even those outside of the faith.
Once during his college days, before he had become a Christian, Groeschel found himself in a predicament where he halfheartedly asked God for a Bible. That same day, the Gideon's gave him one. As he read Ephesians 2 later, he knelt down on a nearby softball field and when he got up he was a new person. He had been born again.
"So, what happened? Someone else paid for a Bible, gave it to me and the Body of Christ worked together to reach me," he recalled.
Years later he had an opportunity to make some big money on a Bible App he had a hand in developing but he refused to cash in because, he said, "the Bible I got was free, and the Bible we have will always be free. The Bible is not for sale."
As of this year, Groeschel noted, they will have given away over one quarter of a billion Bible apps to people all over the world.
4. We love like Jesus loved
Uncompromising love of Jesus is the greatest weapon the Church has, Groeschel said, and that has to apply even to one's worst enemies.
One of the darkest moments in Groeschel's life was when he found out that a man — he referred to him with a pseudonym — had molested his little sister when she was in the sixth grade.
"When I found out [what he did] I wanted to kill him," Groeschel recounted.
But the troubling verse in Matthew 6:15 where Jesus says "If you do not forgive others my Heavenly Father will not forgive you," convicted him so he decided to write a letter on behalf of his entire family to the man who had violated his sister.
In the letter he wrote that "All of us have recently found grace through Jesus Christ ... we choose because Jesus forgave us, we forgive you. We choose to love you as you've been loved and we pray that you can find the same grace that has changed us."
The bottom line, Groeschel reiterated, is that if we are ever to have unity in the Church, we have no business whatsoever shooting at each other.
"I believe that people are sick and tired of hearing about the love of Jesus, they want to see the love of Jesus," he concluded.