Creed's Born-Again Singer Scott Stapp Opens Up About Psychotic Meltdown: I Thought My Family Joined ISIS, I Drove Around for a Month Chasing an Angel I Saw
Grammy Winner Diagnosed With Bipolar Disorder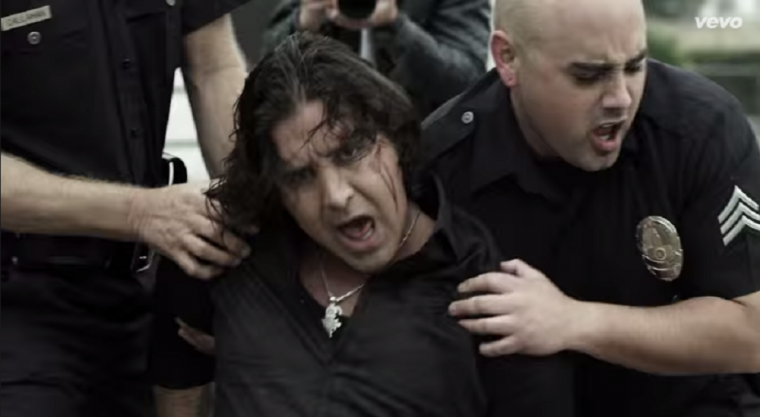 Scott Stapp, the born-again Christian frontman of the popular rock band Creed, has opened up about his psychotic breakdown that progressively worsened over last winter and admitted that it was brought on by drug and alcohol abuse while adding that he has also been diagnosed as bipolar.
The Grammy Award-winning 41-year-old made headlines last November when he posted a video claiming that he was broke and "under some kind of vicious attack" from family, friends and even the IRS.
He alleged that they were stealing money from his bank account and doing evil things. In the video, Stapp also explained that he was forced to sleep in his truck for weeks at a time and once didn't have money to eat for two days.
In December, it was alleged by Stapp's wife, Jacyln, that Stapp was claiming to be an agent with the CIA and that it was his mission to assassinate President Barack Obama. Jacyln got so concerned that she put locks on the family's bank accounts and had Stapp admitted to a rehab facility only to have him escape two days later.
In an interview at his Florida home that was published Wednesday by People, Stapp explained that he is now in recovery and going through a 12-step program with a sponsor to deal with his prescription drug and alcohol issues.
He decided to finally get treatment after Jacyln texted him family Christmas photos as a final effort to get him to seek medical help.
"I'm lucky to be alive," Stapp asserted. "I had a psychotic break that was brought on by alcohol and drug abuse. I was hallucinating. I drove around the United States for a month following an angel that I saw on the hood of my car."
He further explained that he also thought that his family was taking his money and using it to support barbaric terrorist groups like the Islamic State.
"In my delusional thinking, I thought my family was involved in ISIS and that millions of dollars had been taken from me to support terrorism," Stapp explained. "All of it was nonsense. I was out of my mind."
Once the lead singer of hit songs such as "With Arms Wide Open" and "My Sacrifice" hit the lowest point in his life, he decided to participate in an intensive dual diagnosis program, where he was informed that drugs and alcohol were not his only issues. Doctors told him that he also has bipolar disorder, which causes individuals to emotionally go through depressive lows and manic highs.
"It was hard to process," Stapp said. "There's a stigma associated with it. But Jaclyn kept telling me, 'Embrace it. We love you.' It became a big sign of relief, because finally, we had an answer."
Jacyln said she always knew there was another issue with her husband beyond his substance abuse.
"It made sense," Jacyln told People. "I definitely knew there was something going on for years, but I couldn't pinpoint what it was."
Stapp assured that he is taking his recovery program seriously.
"Nothing is more important than my sobriety," Stapp stated.
Jacyln says Stapp's recovery is a testament to the family's determination to see him get better.
"It's definitely not giving up and keep fighting and keep the faith," she said.