DC Bible Museum Funded by Hobby Lobby's Green Family Will Include Religious Artifacts Worth 'Millions of Dollars,' Says Historian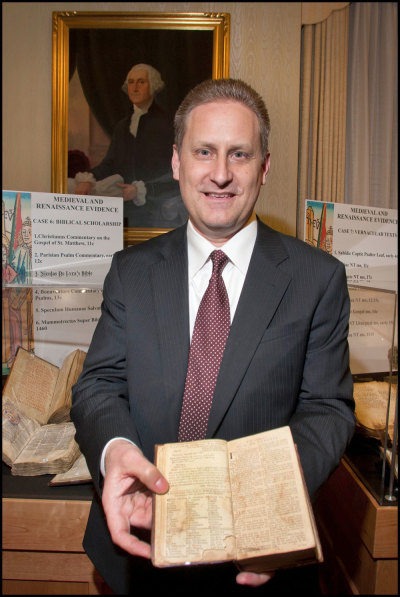 Steve Green's new Bible museum, slated to open in Washington, D.C. in 2017, will reportedly contain religious artifacts that are worth hundreds of millions of dollars, according to the historian who helped Green, president of Hobby Lobby craft stores, find the artifacts, many of which are ancient manuscripts.
Green has been planning the building of the Bible museum for several years, purchasing a 400,000-square-foot-space for $50 million back in 2012. The building is located two blocks south of the National Mall.
The plan for the Bible museum began when Green started collecting ancient religious manuscripts, including papyri, Torahs and Bibles, from around the world, starting five years ago. Scott Carroll, a historian and archeaologist who helped Green in his collecting venture, told the New York Times in a recent interview that while Green initially spent $30 million when he purchased the artifacts, the total value of the historic pieces is now likely in the hundreds of millions of dollars.
"You're talking about landmark acquisitions," Carroll told the newspaper in a recent interview. "These are huge things that any museum, to have a portion of them, would be honored to have."
Known as The Green Collection, this bounty of historical items is one of the world's largest private collections of rare Biblical texts and artifacts, according to the Museum of the Bible, a nonprofit organization that manages the collection. Highlights of the collection include the second largest private collection of the Dead Sea Scrolls and one of the largest holdings of unpublished Biblical papyri in the world.
The recent New York Times piece on Green's plans for the Bible museum comes two weeks after Green and his company, the Hobby Lobby craft store chain, won a Supreme Court lawsuit that ruled corporations can refuse to provide insurance coverage for certain birth control drugs based on religious objections.
Along with the Bible museum planned for 2017, the Green family has also taken on the endeavor of launching an elective Bible curriculum in America's public schools. So far, the Mustang, Oklahoma school district has opted to have the curriculum. The Hobby Lobby company is not involved with the curriculum project.
The Green Scholars Initiative, the nonprofit group behind the Bible curriculum, announced Wednesday that it would be postponing the release of the curriculum due to "unforeseen delays." The teaching plan will now reportedly be postponed until January, when it was originally slated for this fall.
Jerry Pattengale, editor of the four-year high school level curriculum, previously said that creating the Bible-themed syllabus was a natural progression after the idea of the D.C. museum came to life. "The curriculum is a logical extension of our museum and parallels its design, which will have one floor dedicated to each of [the] following: the history of the Bible, its narrative and its impact."