Deadliest Ebola Outbreak Continues 'Frightening' Spread; Samaritan's Purse Directing Efforts at Liberia Isolation Center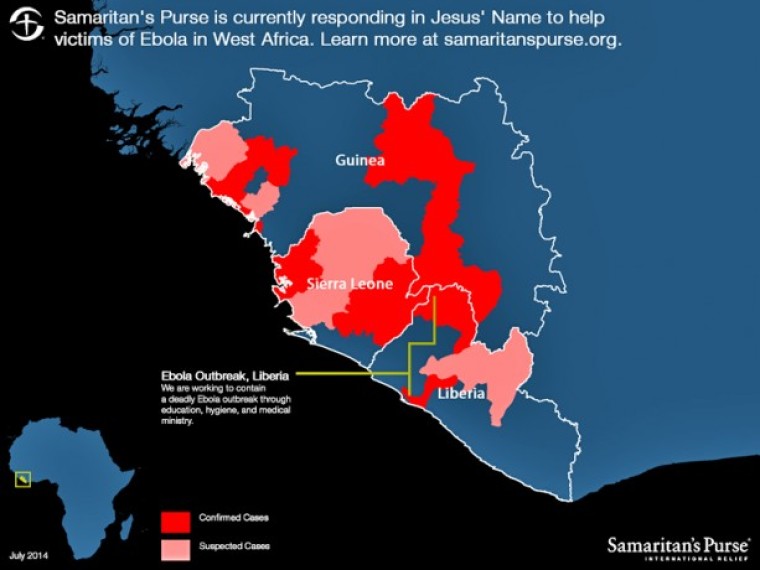 As the deadliest outbreak of Ebola virus in history continues its "frightening" spread, now having taken at least 518 lives, Christian relief organization Samaritan's Purse has said that it is now directing efforts at an Ebola isolation center in Liberia.
"This is the largest outbreak of Ebola since it was first discovered in 1976 and it is the largest outbreak in Western Africa, with cases now showing up in national capital cities," said Ken Isaacs, vice president of programs and government relations for Samaritan's Purse. "Along with medical treatment, awareness and education are the keys to containing this outbreak."
The facility in Liberia is located in Foya near the border with Guinea, which is ground zero in Liberia's battle against the virus.
In an update earlier this week, the World Health Organization reported that there have been 34 new cases of Ebola in Sierra Leone and 16 new cases in Liberia since July 3, though there have been no new case reported in Guinea in the past week.
As of July 6, there were a total of 844 reported cases and 518 deaths in the West Africa region since March, making it the deadliest and most widespread outbreak of the Ebola virus in history. The virus can kill up to 90 percent of those infected.
AllAfrica reported on Thursday that health workers in Liberia are said to be fleeing and returning from assigned areas due to the increasing number of Ebola patients. Some workers are believed to have died while treating infected patients.
"While the number of suspected, probable and confirmed cases and deaths changes rapidly, the outbreak is causing concern among health authorities because the deadly disease is being transmitted in communities and in health-care settings, and it has appeared in cities as well as rural and border areas," WHO said in a previous statement.
Humanitarian groups, including Samaritan's Purse, have sent medical teams to West Africa to do all they can to help with efforts in caring for patients and battling the spread of the disease.
Dr. Kent Brantley, working with the Christian relief group at a Liberia hospital, said in a video last week: "First and foremost we need prayer, people praying for us is what sustains us. We also need financial support, which can be given through Samaritan's Purse, but another very concrete need we have is help. Any physicians, nurses, paramedics, non-medical personnel who feel called to help, we can use you."
Franklin Graham, president of Samaritan's Purse, said that Ebola is "one of the most deadly diseases in the world, and it must be contained as quickly as possible."
The group's medial teams are providing direct clinical care to people infected with Ebola not only at the clinic in Foya, but also at a treatment and isolation center at ELWA Hospital outside Monrovia, Liberia's capital.
Samaritan's Purse is also reaching out to people before they need medical treatment and says that it has trained more than 400,000 people in hygiene awareness to help reduce the risk of them catching the killer virus.
WHO says that symptoms of the Ebola virus include a sudden onset of fever, intense weakness, muscle pain, headache and sore throat, which is followed by vomiting, diarrhea, rash, impaired kidney and liver function, and in some cases, both internal and external bleeding.