'Duck Dynasty' Cousin on Rep. Vance McAllister: 'His Moral Lapses Are Between God and His Family'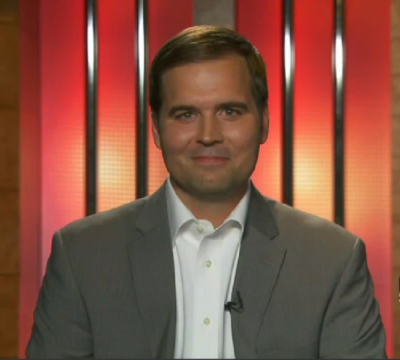 Zach Dasher, kin to the Robertson family of "Duck Dynasty" who is running for Louisiana's 5th District congressional seat, recently responded to the announcement by Rep. Vance McAllister that he would be seeking re-election despite a publicized cheating scandal.
Dasher, a pharmaceutical representative from Calhoun, told ABC news that he believes the upcoming election "is not about personality." "We need to be discussing ideas, and not people," he said.
The 36-year-old businessman, who is the first cousin to Willie Robertson, said that McAllister's decision to seek re-election is "between Vance and his family," adding that it's "not for me to decide."
"What someone does in terms of moral lapses; that's between them, God and their family," Dasher added.
After initially announcing that he would not seek re-election, McAllister (R-Swartz) changed course this week during a press conference in Monroe, when he said he would in fact seek re-election for his congressional seat this coming November election. McAllister had initially said he would not seek re-election after a surveillance video surfaced in April, showing him kissing one of his married female staffers. McAllister is married with five children.
Multiple GOP leaders, including Louisiana Gov. Bobby Jindal and House Majority Leader Eric Cantor, have encouraged the congressman to step down from his political office following the scandal. Jindal reiterated his concern this week, saying in a statement to the Monroe News Star that "Congressman McAllister made the right decision earlier when he said he would not run again."
"It is disappointing he changed his mind," the governor added.
Dasher added to ABC News that while he believes every politician has a right to voice their opinion about McAlllister's decision, the focus of the election should still remain on the important issues, including an overreaching federal government.
"Every citizen has a right to voice their opinion about [McAllister], including Governor Jindal," Dasher said. "If we get caught up with all of this, we detract from the larger point, which is a federal government which is out of control."
Dasher is running on a platform of conservative Christian values and the promotion of religious freedom and small government.
"Man is made in the image of the Almighty God. If we are afraid to say that, then we don't have a case for liberty. Our rights do not come from a bunch of elite politicians in Washington, D.C. They come from the Almighty God," Dasher previously said of his campaign message.
"We did not send people to Washington to determine our rights. We sent them there to defend our rights, but that's not what they're doing," he continued. "They're taking them away, day by day. They're forcing us to purchase their healthcare insurance because they think they know better than we do when it comes to managing our private lives."
McAllister has said that he will not discuss his cheating scandal during his campaign.
"I've publicly apologized to the people in the 5th District and more importantly worked through it with my family," the 40-year-old congressman previously told the Monroe News Star. "I've said all I'm going to say about it. Now it's up to the voters."
Dasher and McAllister will be running against a growing number of GOP candidates. The election is scheduled for early November.