Dwyane Wade Talks God-Given Opportunity After Parkland Victim Buried in His Jersey
Dwyane Wade Talks God-Given Opportunity After Parkland Victim Buried in His Jersey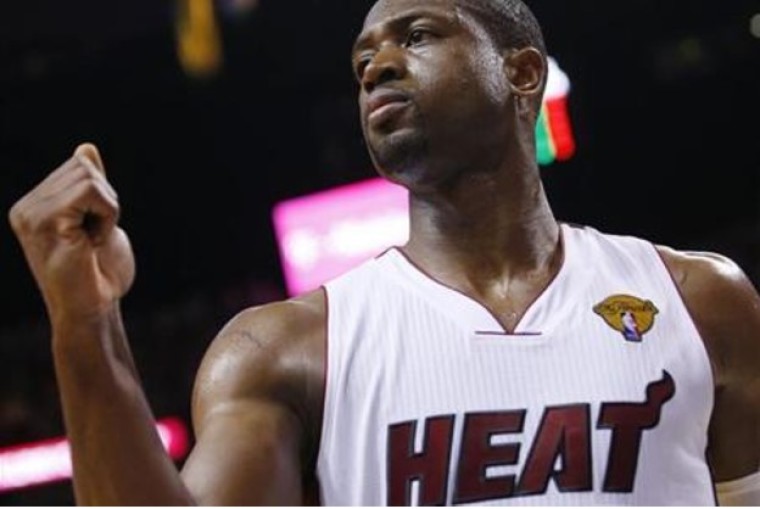 Dwyane Wade has been reflecting about his God-given opportunities after the Miami Heat star found out that a student from the Parkland, Florida, mass shooting was buried in his basketball jersey.
On Feb. 14, 19-year-old former student Nikolas Cruz killed 17 people with a semiautomatic weapon at Marjory Stoneman Douglas High School in Parkland. One of those victims is Joaquin Oliver, a 17-year-old fan of Wade's. His parents said he was buried in the Heat guard's jersey on Sunday.
When Wade learned about Oliver, he dedicated the rest of his season to the slain boy. The NBA star revealed that he was emotional about the matter when speaking to Sun Sentinel this week.
"I don't even know the word for it. Like I re-tweeted on Twitter, I said, 'You're going to make me cry,'" he said. "It's emotional even thinking about that, that his parents felt that burying him in my jersey is something that he wanted. I take a lot of pride in what I've done in this state and what I've meant for the youth, so I appreciate that."
Wade honored Oliver in a special way by writing the teenager's name on his sneakers in a game against the Philadelphia 76ers Tuesday where he scored the game-high 27 points and made the shot that clinched the game.
Although he has been given a platform to play basketball, Wade said he understands that God has given him the responsibility to be a role model for people like Oliver.
"My mom always told me that my life was bigger than basketball. And I always carry that around by the way I try to treat people," he said. "I treat them the way that I want to be treated or the way I want my kids to be treated. I also understand the position that I'm in. God has given me this unbelievable opportunity to play at this level, and I understand what comes with that from a role model standpoint."
Still, it is painful to hear that one of the people that looked up to him had his life taken so tragically.
"You really can't put that in words," he said. "You hurt for the family and if you're able to get an opportunity to speak to them, you just try to hope that the time where he was alive, that you were able to bring some form of joy to his life and something memorable, a story that you guys can talk about."
Aside from basketball, Wade has become known for staying rooted in his Christian faith. In a previous BeliefNet report, he spoke about the importance of tithing.
"I'm a firm believer in the Bible. I believe everything in there," he said. "I'm given so much, so giving 10 percent back to God is nothing to me. That's why I do it, and I don't think twice about it."