Educators Criticize Catholic University for Accepting Money From Conservative Koch Brothers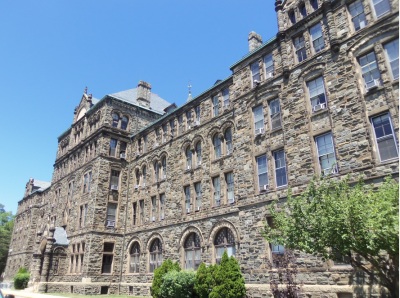 The Catholic University of America (CUA) is defending its decision to accept a $1 million donation from Charles and David Koch after it was criticized last week by 50 Catholic educators for receiving money from individuals they claimed "directly [contradicted] Catholic teaching on a range of moral issues."
In an open letter released on Dec. 13, the deans and department heads of various Catholic universities. including institutions such as Notre Dame and Boston College, said that the college risked "sending a confusing message to Catholics that the Koch brothers' anti-government, tea party ideology has the blessing of a university sanctioned by Catholic bishops," by accepting the money for its new business school.
In particular, the letter's writers pointed out that they believed the Koch brothers, who have donated millions of dollars to conservative and tea party causes, stood in opposition to the Catholic church's teaching "the positive role for government, an indispensable role for unions, just tax policies, and the need for prudent regulation of financial markets in service of the common good."
On Dec. 16, CUA defended its decision to accept the Kochs' donation, explaining that the funds would be used to "enable the university's school of business and economics to recruit and hire three visiting scholars from academia and one visiting scholar-practitioner from the business world."
It also called the letter "presumptuous" and accused its signatories as casting "themselves as arbiters of political correctness regarding Charles Koch Foundation grants" for labeling the brothers' arts funding as "noble philanthropic work."
The statement also found fault with its writers' belief that it could "instruct [the university's] leaders about Catholic social teaching, and do so in a manner that redefines the Church's teaching to suit their own political preferences."
"We are confident that our faculty and academic leadership are well versed in Catholic social teaching and well equipped to apply it. We created a school of business and economics for the express purpose of promoting respect for the human person in economic life, based on the principles of solidarity, subsidiarity, human dignity, and the common good," it stated. "The aim of the Charles Koch Foundation grant — to support research into principled entrepreneurship — is fully consonant with Catholic social teaching."

CUA's response also noted that the institutions of 15 of the signatories also received funds from the Charles Koch Foundation.
"So widespread and, on balance, non-controversial has been the foundation's support for higher education that we wonder whether the 15 signatories realized, before they endorsed the letter, that their institutions are 'guilty' of the same association they chastise The Catholic University of America for. And if they were aware of this, we wonder why they apply a different standard to The Catholic University of America than they do to their own institutions," it stated.