Egypt: Policeman killed trying to defuse bomb near church; Trump hails Sisi for cathedral response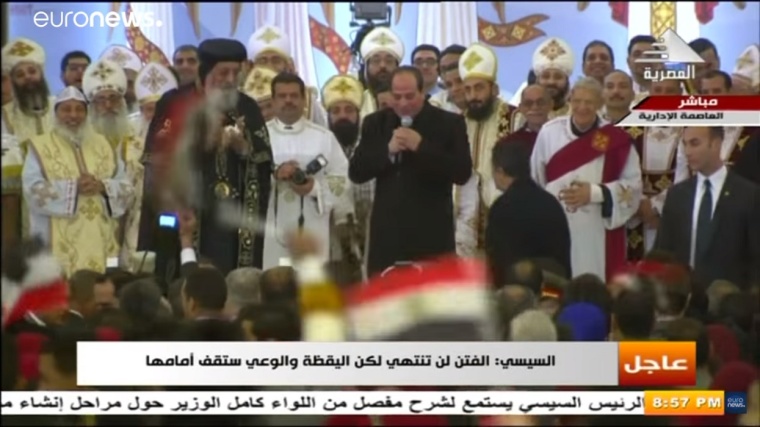 The Egyptian Coptic Christian community is celebrating Christmas on Monday amid safety concerns, two days after a policeman died defusing a bomb outside a church.
BBC News reported that the policeman, Mustafa Abid, a specialist in mine clearance, was killed, while two others were injured by a bomb found on a roof by a church in Nasr City outside Cairo.
While no group claimed immediate responsibility, Coptic Christians, who make up only 10 percent of the population, have been increasingly targeted by Islamic extremists, some linked to the Islamic State terror group.
Over 100 people have been killed in church bombings and other attacks by radicals since 2016.
On Sunday, the Coptic Christmas Eve, Egyptian President Abdel Fattah al-Sisi inaugurated the country's biggest cathedral, the Nativity of Christ, in Egypt's new administrative capital.
Sisi observed a moment of silence for Abid, AFP reported, and declared that Egyptians are united against terror.
"We are one and we will continue to be one," Sisi said, noting that the nearby Al-Fattah Al-Alim mosque carried the same message.
"This moment is very important in our history."
Egypt's top Muslim cleric Ahmed al-Tayeb added that "if Islamic law requires Muslims to protect mosques, it equally requires Muslims to protect churches."
Several Islamic authorities in the country, including Grand Mufti of Egypt, Shawki Allam, denounced the latest church bombing attempt, calling it a "terrorist operation."
Al-Azhar, Egypt's highest institution of Sunni Islam, said in a statement: "The targeting of worship places and killing of innocents is a flagrant criminal act that violates teachings of all religions."
U.S. President Donald Trump meanwhile hailed Sisi for the cathedral inauguration, writing on Twitter that he is "excited to see our friends in Egypt opening the biggest Cathedral in the Middle East."
"Sisi is moving his country to a more inclusive future," Trump said.
Still, Copts have argued that the Egyptian government has failed to protect its citizens, noting the increased attacks in the past several years.
Late in December, Coptic communities in Australia scheduled protests against what they say is ongoing persecution believers are facing in Egypt.
The Australian Coptic Movement Association said that one troubling narrative has been Egyptian officials forcing Christian families to accept "reconciliation" instead of justice over the violence against them.
"Egyptian authorities, particularly in Southern Egypt, continued to conduct 'customary reconciliation' sessions between Muslims and Christians. In ALL cases, we have the Muslim majority attacking the local Christian minority and the local authorities and Muslim and Christian religious leaders at times have abused these sessions to compel victims to abandon their claims to any legal remedy," the association said at the time.
"Dismayingly, in some cases, Christian families have been forced to leave their villages and sell their property," it added.