Egyptian Mother Prays God Would Touch Hearts of ISIS Men Who Killed Her Son-in-Law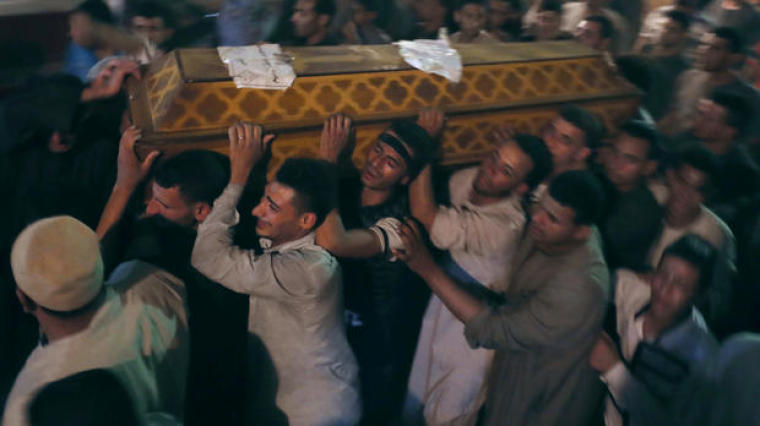 A Christian mother of six children who survived an attack by Islamic State terrorists as her family was traveling to a monastery in Egypt's Minya region last year but lost her son-in-law, who refused to deny his faith, says she prays the attackers "will be touched by God."
"We weren't worried about our security at all," says the mother, Nadia, in an interview with the Open Doors ministry in her house in the rural Egyptian town of Buni Suef, recalling the killing of 28 Egyptian Christians for their faith as they were on their way on a bus to a monastery in Minya to celebrate the Feast of the Ascension on May 26, 2017.
The men from Islamic State, also known as IS, ISIS, ISIL or Daesh, were in military clothing, standing on the road. The masked men shot the wheels of the bus, and first went to her son-in-law, Sameh, who was sitting at the front, and asked him to convert to Islam, she says.
He refused. And was shot. The ISIS men then came to his son, Hany. Nadia heard him say, "No, I am a Christian," and a gunshot.
"Maybe you think I would rather have seen my son make a different choice," she says. "And of course, as a mother, I am terribly sad and angry. But I am happy that I witnessed the faith I raised him in. I am thankful that he wouldn't deny Christ even with his life in danger. He made the right choice, and that has been a huge comfort to me."
After killing all the men in the bus, the attackers turned to the women and children. They grabbed Nadia's 3-year-old grandson, Mina, and said they'd kill him, too, if the girls on the bus wouldn't come with them.
However, they got distracted by an approaching pick-up truck and left to attack a father traveling to the monastery with his two sons. "I still thank God that He prevented the girls from being taken," Nadia says. "The men would have abused them terribly."
Nadia received a critical injury in her arm caused by random gunfire and can no longer use it. But her faith remains strong.
She says had it not been for "God's comfort," she "would have gone crazy." She says she is comforted by the assurance that Hany is in Heaven and that she would see her son-in-law again.
And she has not turned bitter against ISIS.
"If I meet the attackers of my son and they kill me for my faith, I'd be happy," she adds. "Then I would join my son in Heaven."
And if given the chance, she would say to her son's attackers, "I pray that they will be touched by God so they will change their ways."
Egypt has roughly 10 million Christians, mostly Copts.
An affiliate of ISIS in North Sinai started an insurgency after the military's ouster in 2013 of Mohamed Morsi from the Muslim Brotherhood. More than 100 Christians have been killed in attacks by Islamist groups inspired by ISIS since December 2016.
On Palm Sunday this year, twin suicide bombings killed 47 people and injured 126 others at churches in Tanta and Alexandria.
IS earlier released a video of the 2015 beheadings of 21 Egyptian Christians in Libya, titled "A Message Signed With Blood to the Nation of the Cross." Despite the horrific actions of the jihadists, the minority Coptic community in Egypt has been emboldened by the example the 21 men in the video for their refusal to deny Christ.
According to Open Doors USA's 2017 World Watch List, Egypt ranks as the 21st worst country in the world when it comes to Christian persecution. Additionally, the Congressionally mandated United States Commission on International Religious Freedom has recommended that the U.S. State Department list Egypt as a "Tier 2" country, a designation that singles out countries where religious freedom violations are tolerated.
Last November, a delegation of evangelical leaders from the United States met with Egyptian President Abdel Fattah al-Sisi for nearly three hours at the presidential palace in Cairo. The leaders addressed their concerns about the plight of the Christian community there.