ESPN President: Tim Tebow Backlash Partly Our Fault: 'We Over Did It'
ESPN President John Skipper has partially blamed his sports network for generating a Tim Tebow backlash against the outspoken Christian former NFL player.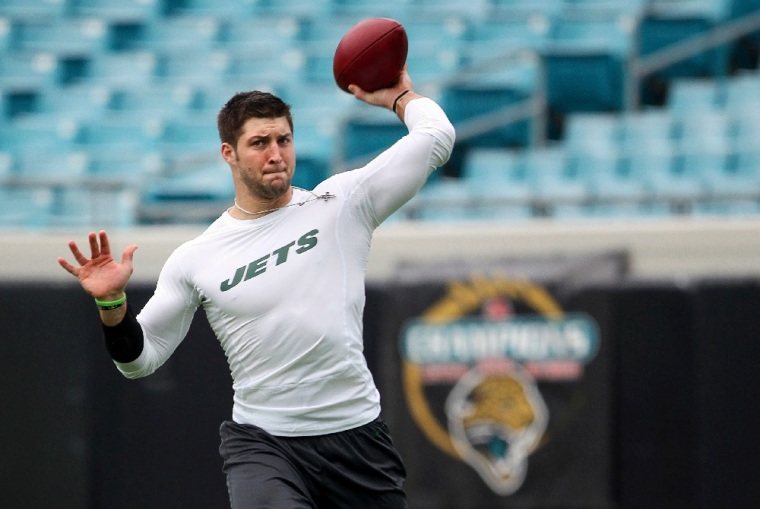 Speaking with The Hollywood Reporter, Skipper acknowledged that ESPN took full advantage of the ratings juggernaut that was Tebow, 26, even when it began to disadvantage him as a person.
"We gave him a lot of attention. I've said before, we probably overdid it. And that makes people sort of suspicious of him. It's not his fault. He is genuinely a very likable guy," he said.
Skipper added that Tebow's graciousness and openness to feedback also ingratiate him to people.
"He's a very nice man. He says, 'Yes.' 'How did I do?' 'How can I get better?' and 'Thank you.' You can see why people like him," he said.
Tebow is currently employed by ESPN and will call SEC games when the college football season kicks off in August. Skipper praised his new hire, adding that he shone during January's BCS title game between Florida State and Auburn.
"We have been thrilled. We thought it might take him a little longer to get comfortable. He's very knowledgeable. It's beyond our expectations," he added.
"I am so excited that ESPN has given me this incredible opportunity," Tebow said in a statement announcing the position. "When I was 6 years old, I fell in love with the game of football, and while I continue to pursue my dream of playing quarterback in the NFL, this is an amazing opportunity to be part of the unparalleled passion of college football and the SEC."
Tebow did not play in the NFL in the 2013-14 season after being dropped from the roster of the New England Patriots at the end of preseason. He previously played for the New York Jets and the Denver Broncos after graduating from the University of Florida.
Tebow told reporters in January 2014 that although he is extremely grateful for his opportunity to work with ESPN, he is still prepared to play for NFL in the future.
"I feel like I'm the best that I've ever been as a quarterback right now, and I hope I get the opportunity to show that," Tebow said. "But who knows what the next few months will hold?"