5 Evangelical Reactions to the New Sexual Misconduct Allegations Against Brett Kavanaugh
4. Al Mohler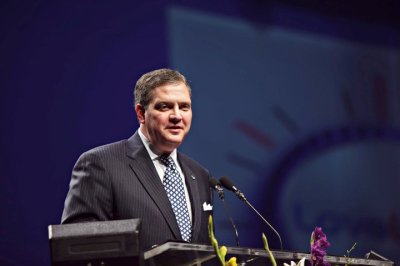 Al Mohler, the president of the Southern Baptist Theological Seminary in Louisville, Kentucky, took to his online radio show The Briefing to address the question of how "morally serious" people must weigh the accusations facing Kavanaugh, especially when they have come toward the "very end" of the confirmation process.
"The events that have taken place in the last couple days now make it even more difficult for a morally serious or thoughtful person to try and understand what moral issues are at stake and how they should be adjudicated," Mohler said.
Mohler also responded to Douthat's implication that Kavanaugh is tainted simply because a "credible" sexual assault accusation has been made against him.
"If indeed Brett Kavanaugh is now tainted by an allegation and even if it's conceded the allegation might not be true, but because he is tainted he should not serve on the court, we just need to note that anyone nominated to the court ... can simply be immediately destroyed by a similar kind of allegation," Mohler said. "Once we as a society begin to accept that it really doesn't matter and it's beyond our consideration if an allegation is truthful, then we are just going to destroy one another with claim and counterclaim in which the only issue is the effect of the claim not the truth of the claim."
Mohler asserted, though, that there is "enough in this picture that is disturbing and this is where Christians just have to be honest."
"The picture of this kind of testosterone adult in prep school — a very elite school for boys — and the kind of parties in which there was so much alcohol, there seems to be a general concession on the part of many of those who were teenagers then that the alcohol was flowing radically and freely and had a very, very dangerous effect," Mohler said. "Christians need to understand that we are looking at allegations that, if true, would be devastating for anyone in public life or, for that matter, anyone at all."
If the allegations of sexual assault against Kavanaugh did take place, Mohler stressed that does make the Supreme Court nominee a "sexual assaulter."
"He was an assailant and we are looking at something that reveals character, not just misjudgement and can't be excused by any kind of ex post facto explanation other than 'It didn't happen,'" Mohler explained. "At this point, we need to recognize the tragedy of this circumstance far beyond the immediate question of the nomination or confirmation of Judge Kavanaugh."
Mohler stressed that over the last several decades, society has not taken seriously enough the allegations of sexual misconduct made by women against men.
"That pattern was clearly wrong and directly in violation of our understanding of the biblical mandate of love of neighbor and also just basic respect for one another," Mohler said. "The #MeToo movement is at least a reminder of the fact that there has been far too little attention paid to women when they cry out."