Former NFL player slams public schools at CPAC: 'Kids must learn what sin really means'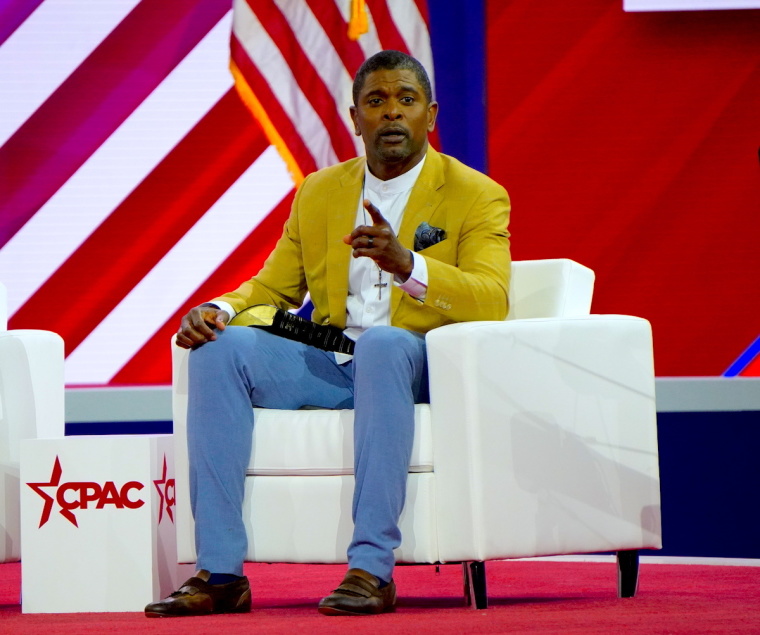 NATIONAL HARBOR, Md. — A former NFL player is calling on parents to pull their children out of public schools unless they start teaching the Ten Commandments.  
Jack Brewer, a former defensive back who played for four NFL teams from 2002 to 2006, spoke at the Conservative Political Action Conference last Friday at the Gaylord Resort and Convention Center just outside the nation's capital.
The 44-year-old was featured in a panel discussion titled "A Rabbi, a Christian, and a Cardinal Walk Into a Bar." The discussion touched on the "spiritual implications" of "the desecrators on American culture" who have engaged in "rioting, looting and political violence in America the last few years."
Political violence has become a more common feature of American life in the past few years. The death of George Floyd in police custody in May 2020 led to a wave of violence and looting, while vandalism of pro-life pregnancy centers and churches followed the 2022 publication of a leaked draft U.S. Supreme Court decision in the case of Dobbs v. Jackson Women's Health Organization determining that the U.S. Constitution does not contain a right to abortion. 
Brewer, a supporter of former President Donald Trump who now works with the conservative America First Policy Institute Center for Opportunity, suggested that much of the problems that lead to the "rioting, looting and political violence in America" could be solved by "teaching the kids the basic Ten Commandments."
"We should be demanding every single public, private school give parents the option to give their kids the Gospel of Jesus Christ," Brewer, an outspoken Christian, declared.
He even urged schools to "bring the paddle back," referring to corporal punishment that has been abolished in most U.S. schools.
"Some kids need their butts whooped," he asserted. "They're tearing up the streets. They're robbing and they're stealing, and they're filling up our juveniles. They need to start getting their butts whooped and being taught right from wrong."
Before he called for teaching the Ten Commandments in public schools, Brewer urged parents to "stop putting them into these public schools that don't teach them the Ten Commandments," noting that their absence means "they don't know right and wrong."
"So how is a kid going to make those decisions if they don't know right and wrong?" he asked. "We have to start teaching our kids what sin really means."
Brewer clarified that "sin is just not the sin of commission that you commit; there's also a sin of omission."
He contended that "if you stand on the sidelines and do nothing to protect the commandments of Christ, you are committing a sin," adding, "if you are not willing to go to the depths of what the Gospel teaches and preach to these children, then you are to blame for their souls being lost."
Although Brewer would like to see public schools teach about the Ten Commandments, many might argue that doing so would violate the Establishment Clause of the First Amendment to the U.S. Constitution, which prohibits governments from "respecting an establishment of religion."
In 1980, the U.S. Supreme Court ruled 5-4 that a Kentucky law requiring that the Ten Commandments be posted on the wall of every public school classroom in the state violated the Establishment Clause because it "had no secular legislative purpose" and was "plainly religious in nature.
While Brewer would also like to see schools "bring back the paddle," there has been muchdebate for years on whether spanking and corporal punishment are biblical forms of discipline for children. 
When asked, "what opportunities are we missing out on because of the spiritual darkness that has taken hold of our youth," Brewer responded by proclaiming, "We're missing out on the opportunity to save souls." He contrasted the focus on "politics" and "prosperity" with "what Jesus talked about."
"Jesus told us to go out and preach the Gospel to every nation, all [races,] colors and creeds," he said. "He wasn't talking about your political party. He wasn't talking about your ideology. He was talking about people going to Heaven."
"When we talk about the cultural issues happening in our time, that's because people don't understand Heaven and Hell," he added. "People don't want to talk about Heaven and Hell. We want to sugarcoat everything and wonder why we have kids that don't have a fear of God that are going out rioting in the streets, why we have a country with 24 million fatherless kids."
Brewer said that the last verse of the Old Testament "warns us that if the hearts of the fathers don't turn to the children that he will hit our land with a curse." He proclaimed that "we are living in that curse."
Brewer said the fact that many "kids can't read and write" in public schools is evidence that "our land, right now, is cursed." He referred to statistics showing that 23 schools in Baltimore, Maryland, had zero students proficient in math.
Noting the large volume of people who want to come to the U.S. because they view it as a land of opportunity, Brewer asked, "Are we going to protect it? Are we going to talk about the Gospel, or are we going to talk about our feelings?"
When asked, "what do you need to teach our youth to empower them to rise above their circumstances and create value versus destruction," Brewer responded, "you got to bring them hope, and you only can bring them hope through the Gospel."