Former Gay Porn Star Finds Jesus After Hospitalization, Near Death Experience
 A man in Napa, Calif. is telling his harrowing journey of sex addiction from a young age and a stint in the gay porn industry in his early 20's in his new book, Swallowed by Satan.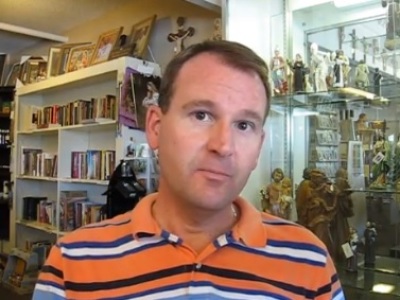 In his new book, Joseph Sciambra tells the story of his obsession with the gay porn lifestyle in his 20's before suffering a near-death experience that landed him in the hospital and ultimately resulted in him reconverting to Catholicism.
Sciambra, 44, says in his new book that he was first introduced to porn at the young age of eight, and quickly after this first experience he became addicted to more extreme forms of pornography, such as gay porn and masochistic behavior. The website for Swallowed by Satan says Sciambra hit rock bottom after delving "into the darkest recesses of the occult, Satanism, and eventually Neo-Nazi ritualism," eventually becoming a "sadomasachist master" and ultimately a "common street hustler."
A turning point for him was in his early 20's, when he participated in an orgy while living in San Francisco, Calif. that left him hospitalized.
Following his near-death experience, Sciambra decided to leave the porn industry and reconvert himself to his Catholic faith; he now runs a Catholic religious shop in Napa, Calif. He also works with fellow former pornography actors to reach out to those still in the industry and those seeking help for porn addiction through the Pink Cross Foundation.
"It's a difficult time in your life. You're feeling inadequate and lonely and depressed. And pornography really offers an escape," Sciambra previously said in a feature segment for the Pink Cross Foundation on the "America Now" TV Show back in September.
For those struggling with their sexuality or pornography, Sciambra told LifeSite News that the most effective way for Christians to reach the lost is to offer a loving and understanding approach to their problems.
"[…] the best outreach is gentle, patient, and understanding. This does not mean to capitulate, on the contrary, you must have an inner strength grounded in the Truth of Christ, but you must also be guided and open to the workings of the Holy Spirit. You must guard against becoming emotional, because the Truth can only be relayed and accepted when it is offered in kindness and understanding," Sciambra told LifeSite News.
Additionally, Sciambra told LifeSite News that those wishing to leave a sinful lifestyle must be met with "sympathy, compassion, and prayers" instead of "shock, horror, or anger."
"This may be a matter of just listening, not really offering a lot of catechesis or dogma, but simply letting them know that you care. Once a relationship is established, you have to decide when and how the Truth of Jesus Christ's plan for each one of us is to be delivered. Again, one must always remember that these are deeply wounded and suffering people: they need your sympathy, compassion, and prayers," Sciambra said.