Franklin Graham: 'Blood of Children' Will Be on Obama's Hands If He Vetoes Defund Planned Parenthood Bill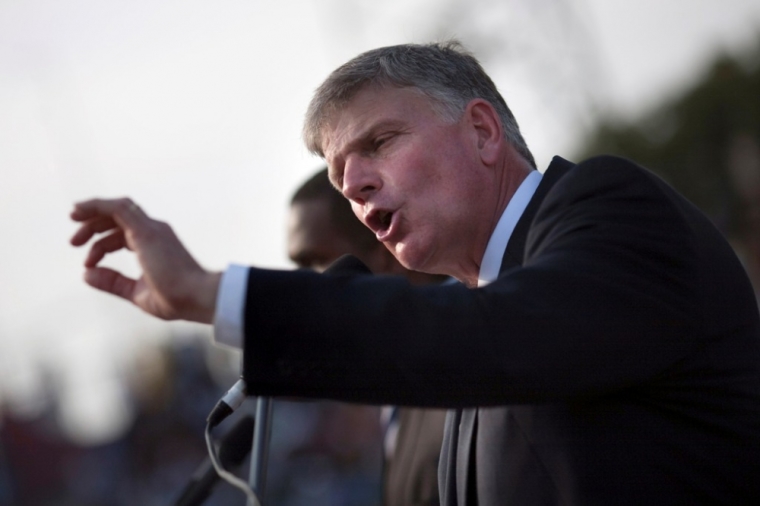 The Rev. Franklin Graham has warned that the "blood of children" will be on President Barack Obama's hands if he does indeed decide to veto the defund Planned Parenthood bill that was passed by the U.S. House of Representatives on Friday.
"President Obama has said he will veto the bill — if he does, it will be at his own peril and the blood of those children who are butchered at Planned Parenthood will be on his hands," Graham warned in a Facebook post on Sunday.
The evangelical preacher said that the passing of HR 3134, which would strip Planned Parenthood of $500 million in taxpayer dollars for a period of at least one year, is a "great step."
"I'm thankful that those supporting this bill stood firm. It still has to pass the Senate, so we need to continue to pray," Graham added.
Public anger toward Planned Parenthood, the nation's largest abortion business, has been growing over the summer after the release of several undercover videos by the pro-life group the Center for Medical Progress. The videos purport to show that Planned Parenthood employees have been involved in illegal and unethical practices surrounding the sale of aborted baby parts.
Protests were held at hundreds of Planned Parenthood clinics in August, with pro-life supporters demanding the organization be stripped of public funding.
White House spokesman Josh Earnest affirmed last week, however, that Obama would seek to veto any effort to defund the group, which is among his largest supporters.
"We've been quite forthright about the president's opposition to any effort to wholesale defund Planned Parenthood," Earnest told reporters Wednesday.
Earnest further argued that it would be "cynical" to use the videos as a reason to defund Planned Parenthood.
"What has injected this issue into the political dialogue of late, the graphic videos that emerged on the Internet the last couple of months, Planned Parenthood has apologized for the content of those videos and they should. They were shocking," the White House spokesman added.
Graham, an outspoken critic of abortion, has been highly critical of the abortion-providing organization.
Back in August he slammed Democratic Senator Harry Reid of Nevada for suggesting that Republicans attempting to bring the bill to defund Planned Parenthood up for a vote have lost "their moral compass."
"You've got it backwards Senator Reid. You lost your moral compass years ago! You openly support abortion — the murder of babies in their mothers' wombs — and now by backing Planned Parenthood you obviously support the dismemberment and sale of baby body parts," the evangelical said.