Franklin Graham Goes Vegan to Drop Weight in New Year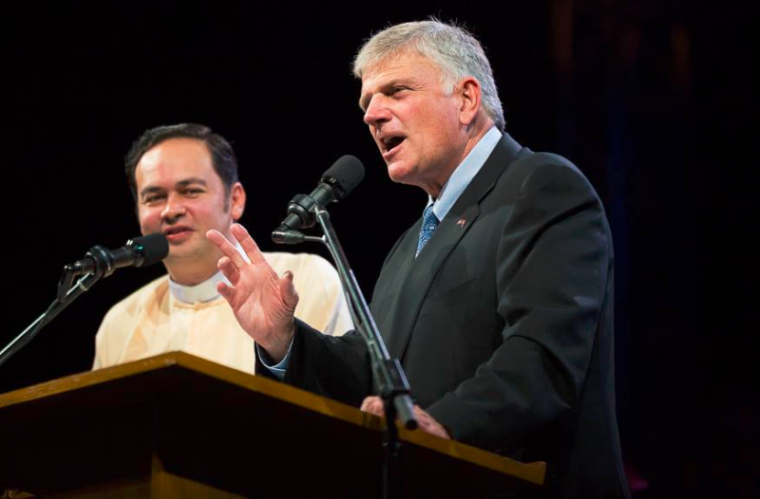 As a New Year's resolution to lose weight, one of the nation's leading Evangelicals has temporarily given up meats and dairy and converted to a vegan diet.
During a sermon at Gateway Church in Southlake, Texas, last week, Samaritan's Purse President Franklin Graham announced that, although he loved to partake in eating barbecued meats and hamburgers, he was adopting a vegan diet for six months.
While he spoke, the evangelist made his weight goals public. "I would just like to lose about 30 pounds, maybe 50 — that would be fun."
Graham admitted that he hasn't been able to keep New Year's resolutions, but he decided to try again. "I'm not very good at New Year's resolutions," he said. "I've tried [them] so many times and I break them ..."
The very first morning of his new diet, he seemed a bit discouraged with his meal, saying that he had eaten a vegan breakfast of peanuts and unsweetened iced tea, but was still hungry.
"I tweeted that I was a vegan and that I was hungry. PETA — you know who PETA is — PETA tweeted me and said, 'We don't want you to be hungry. We've got some tips of things that you can eat during this New Year.'" 
Later, Graham posted a photo of a "starter kit" of various foods, including Oreo cookies and crabless cakes, that PETA sent Graham. 
In a series of tweets, Graham seemed to be getting a handle on his new diet. On day three, he tweeted "Day # 3 of my #vegan diet. I haven't cheated yet! Brazilian black beans and rice for lunch. #Delicious!"
The same day, the evangelist reflected upon his old eating habits, frowning at how he had once consumed pork. He posted an image of a pig's head on Twitter along with the message "Day #3 of my #vegan diet. Can you believe I used to eat this??"
By day four, Graham seemed to be enjoying himself with red beans and rice.
Skipping to day seven, the evangelist was still on track. "Lunch on a snowy day 7 of my #vegan diet was great. Stir fried vegetables, fried rice w/out egg & unsweet tea."
While 7.3 million adult Americans practice a vegetarian-based diet, only .5 percent, or one million, of those vegetarians are vegans, according to Vegetarian Times. But veganism has been on the rise around the world in recent years, particularly among millennials in Europe. Many cite health, the environment and animal welfare as reasons for going vegan.