Franklin Graham: Obama's Gay Rights Monument Is 'Monument to Sin'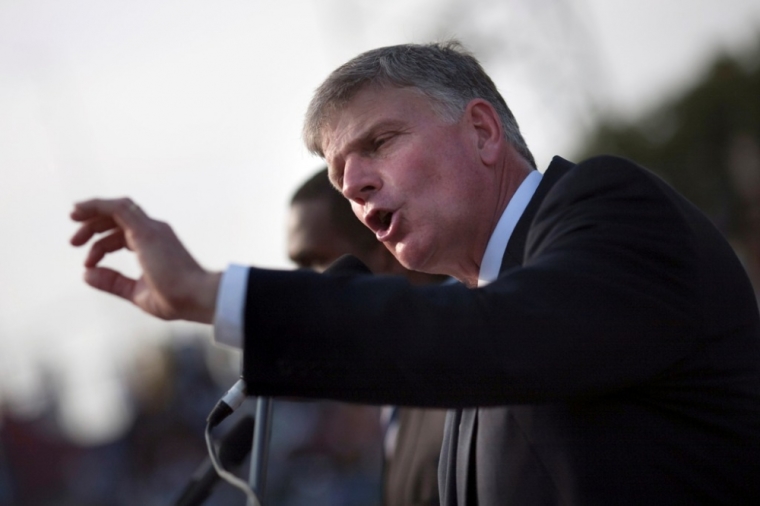 Evangelical preacher the Rev. Franklin Graham has called President Obama's expected commemoration of America's first national monument for the gay rights movement in New York a "monument to sin," asserting that many other people deserve a monument instead.
"A monument to sin? That's unbelievable. War heroes deserve a monument, our nation's founding fathers deserve a monument, people who have helped to make America strong deserve a monument — but a monument to sin?" Graham opined in a Facebook post on Friday.
Sources close to the White House have said the planned monument is expected to be erected on a piece of parkland that lies across the street from the Stonewall Inn in Greenwich Village, which is popularly believed to be the birthplace of the American LGBT activist movement, stemming from the protests in June 1969 against police raids on the tavern.
"Stonewall deserves to be remembered," Brian Sullivan, a former bartender at the tavern, told The New York Times. "When I started coming here, gay people were disowned by their families, so this is the place where we formed a new gay family of our own."
"This is the mecca; it's where it all started," Sullivan added.
The Washington Post noted that Obama is getting ready to designate the area for the monument as part of the National Park Service as early as June.
Graham urged Obama, who decided during his presidency to embrace the movement to support gay marriage, to reconsider this move.
"I can't believe how far our country has digressed. I hope that the president will reconsider. Flaunting sin is a dangerous move. God's Word tells us, 'Righteousness exalts a nation, but sin is a reproach to any people,' (Proverbs 14:34)" the evangelist wrote.
In the past, Graham has also warned Obama against promoting the gay and lesbian agenda to other nations in foreign trips.
"I didn't know that we were sending our president halfway around the world to promote the gay and lesbian agenda! Samaritan's Purse has an office in Kenya and has worked there many years, and I can tell you that the churches in Kenya know what the Bible says about homosexuality — it is a sin. Sin should not be embraced, but recognized truthfully for what it is and for its serious consequences," Graham wrote on Facebook in July 2015.
"As a world leader, the United States of America is now exporting the acceptance of immorality via our president. What will the cost of that be?" he asked.
Obama has insisted that LGBT rights are human rights both abroad and in the U.S., and described the June 2015 Supreme Court decision requiring states to recognize gay marriage as "a victory for America."
"Our nation was founded on a bedrock principle that we are all created equal. The project of each generation is to bridge the meaning of those founding words with the realities of changing times," the president said back then.